In this article we are going to look closely into Illuminations – fancy entertaining events, held in past times during various celebrations. Such illuminations have been around for a long time, but it turns out that we know so little about them.
I know that am not the first one to touch upon this mystery. Nevertheless, I wanted to check it out myself by looking into some foreign sources. Based on what I saw and read, I can state that it is not that simple. All information that is one way or another related to the technical side of the illuminations is classified or destroyed. To get any information and content for the article I had to look for tabloid press of that time, like this: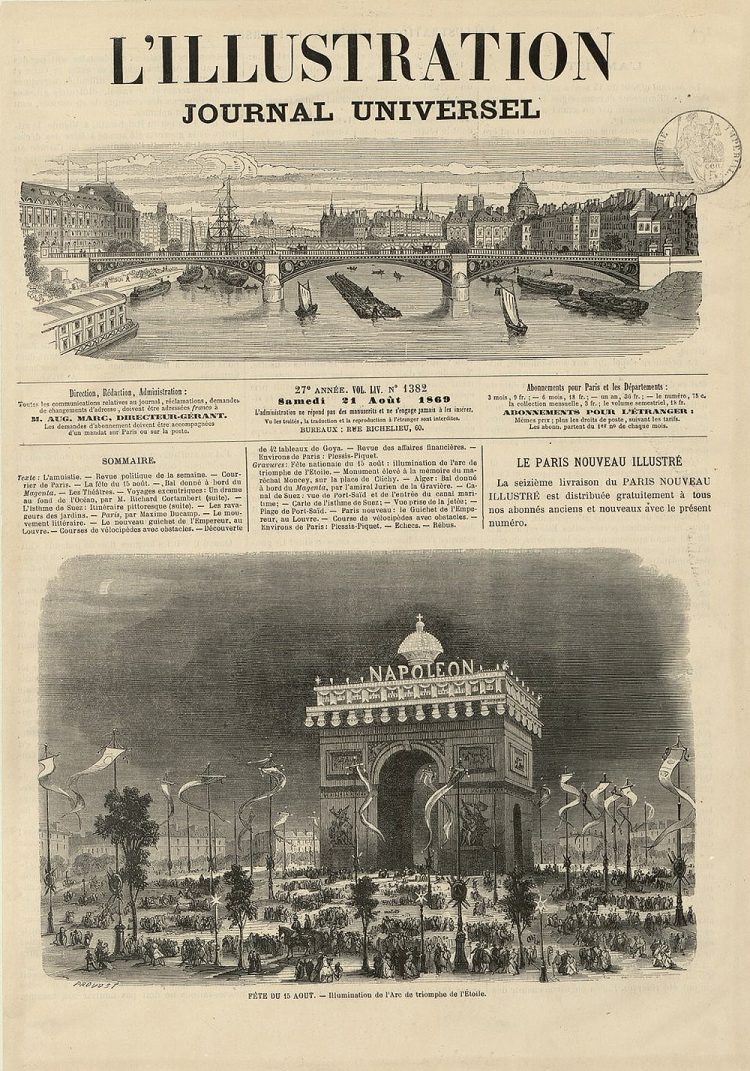 Luckily, it hasn't been censored yet. However, such tabloids can give us only brief insight into the issue, without giving away any details, but at least, they give us a confirmation of the fact, that illuminations indeed existed, which is clearly seen in various graphical images. We may also conclude that all those illuminations were not a result of combustion.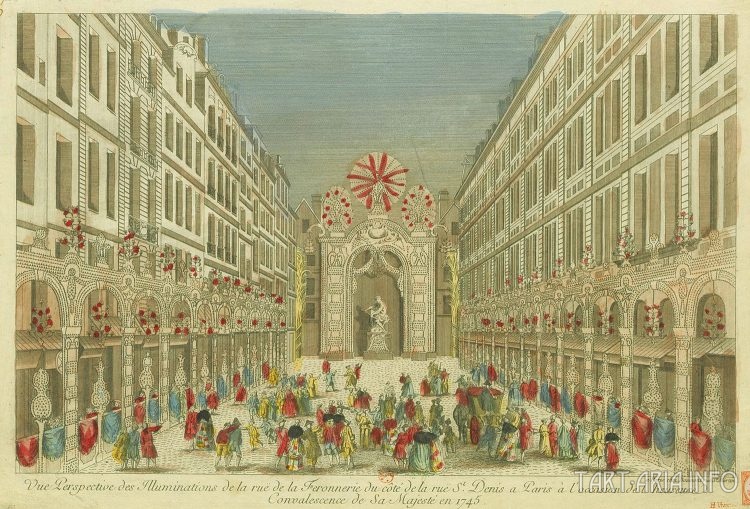 I get a strong feeling that someone has retouched this image, particularly the parts where columns are decorated with some kind of fairy lights. It is obvious that use of fire is out of question, otherwise everything would blaze up, while fires in those days were feared no less than the plague. Pay attention to the fact that the year was 1745 (Paris).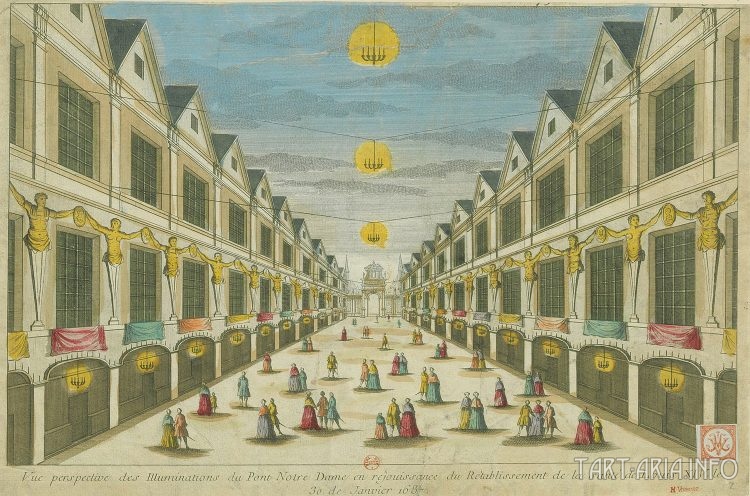 This image shows the same place, but in 1681.The lamps, hanging on the wires, evidently have not candles inside. The light they radiate is unusual, and looks like the whole lamp is glowing (instead of separate lights). What is it? An artist's style? Let's look at some other images.

This is Paris at night. The building is clearly decorated with some balls. Something also hangs on the tree.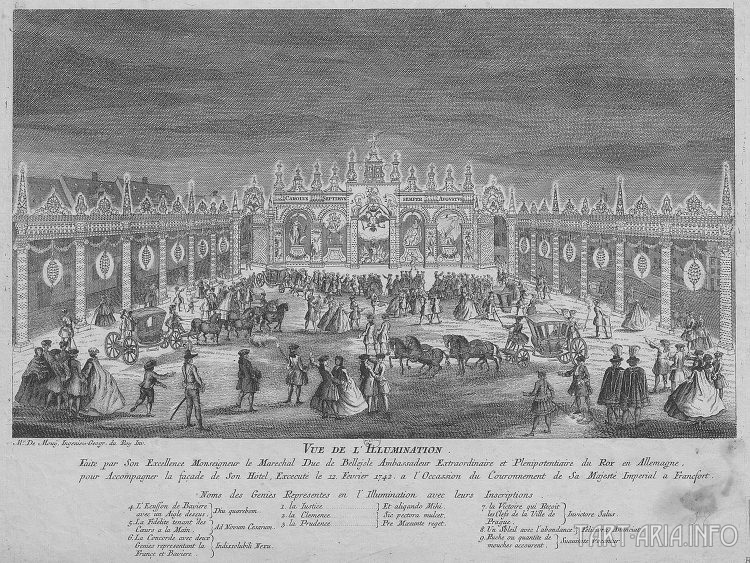 Here we see Frankfurt in 1730 (but for some reason there is the emblem of the Russian Empire?!). We can see the same glowing balls and decorations in the image. It probably looked really impressive.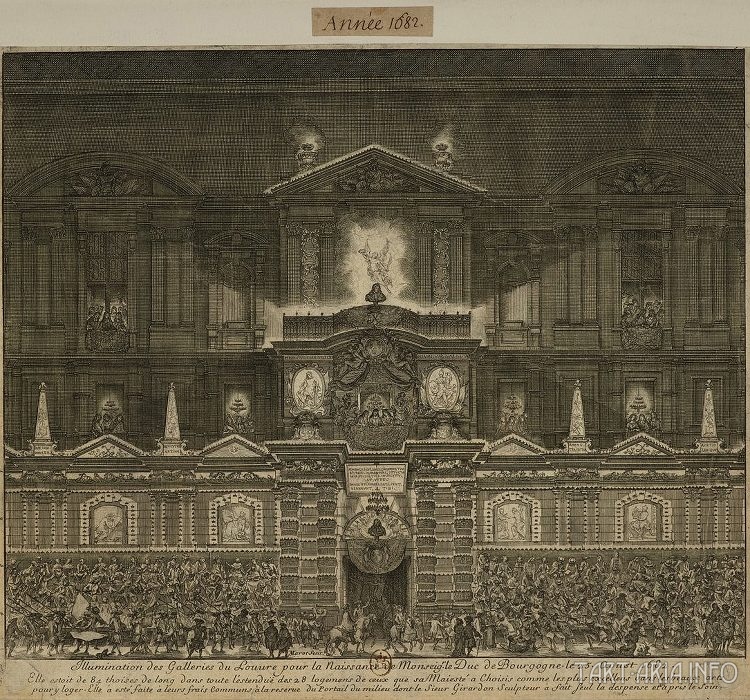 Again, we see some balls hanging on the building. The fact becomes irrefutable. There are also some conifer-looking objects seen in the image, but we'll talk about them a bit later. Is there any detail that connects together all these images (excluding the festive atmosphere)? Of course there is.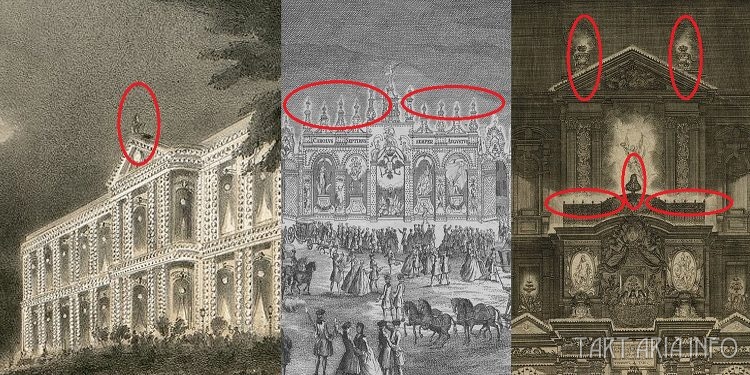 It is again the very same ether capacitor, seen many times in previous articles.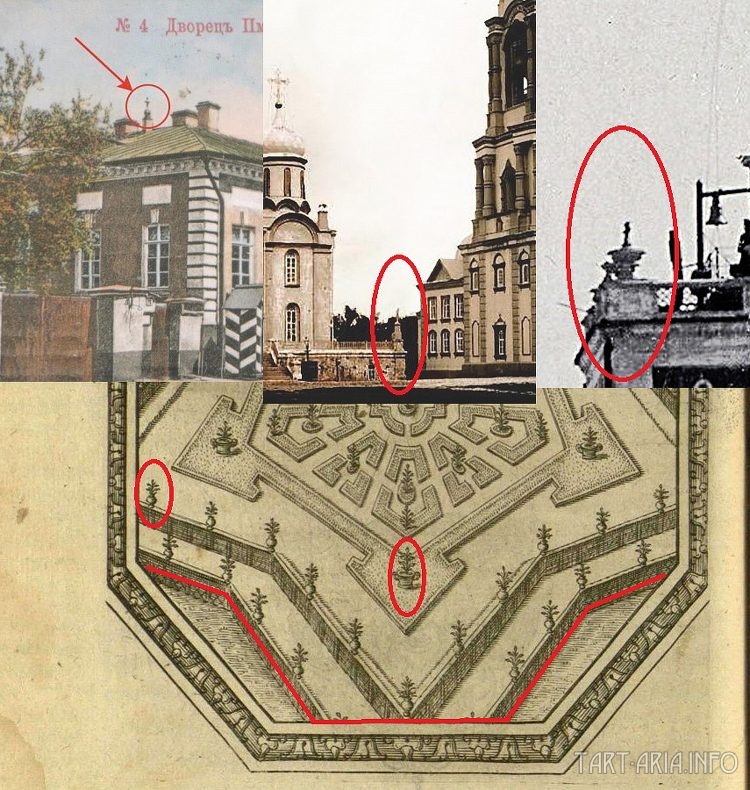 The picture gradually clears up. Let's look further.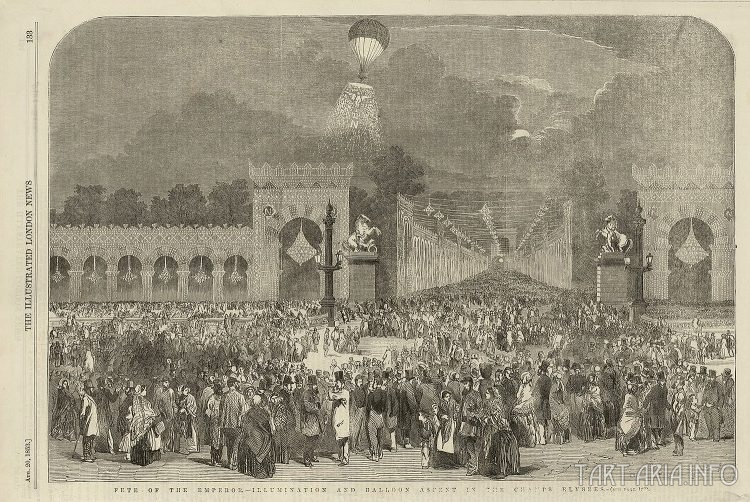 Even the flying balloon radiates light, illuminating some kind of decoration (N – stands for the emperor Napoleon). The light is evidently not a result of combustion.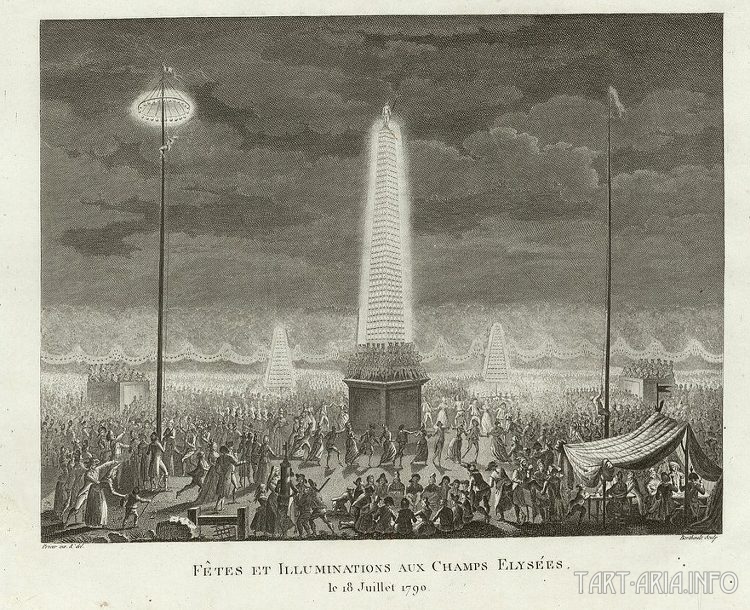 Wow, the whole obelisk is decorated with lights. The obelisk itself looks real. The pole standing nearby (with a climbing person) resembles the luster of Chizhevskiy. Where does it take such a high ionization voltage? The image was clearly painted not by an engineer, so it's hard to make any conclusion. Most probably, the luster is lit up and amplified by the obelisk.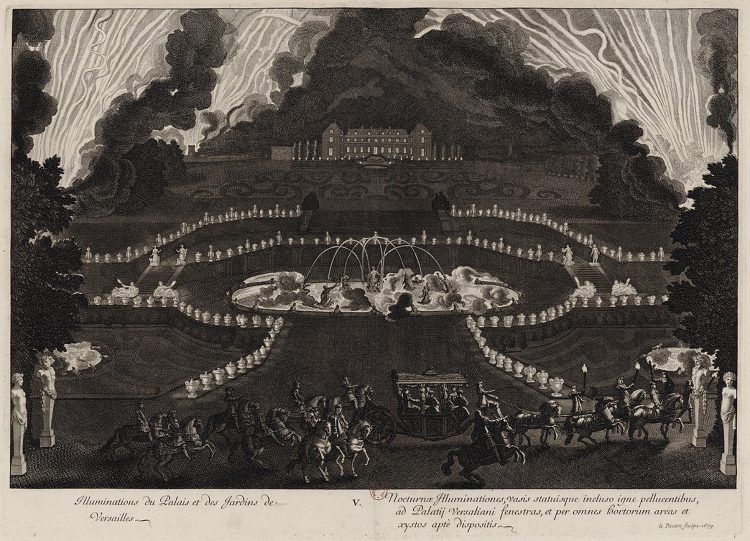 This is a fairly large-scale illumination in Versailles. As you can see, there are a lot of glowing vases standing around the fountain. If you look at this fountain now, you won't recognize it. Now there are almost no vases there.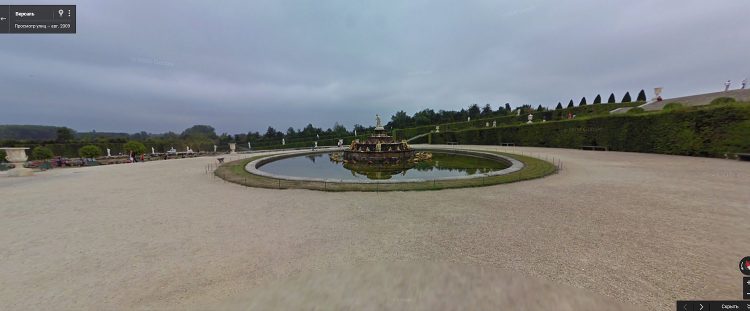 Again, we see some sort of Chizhevskiy lusters, but this time – hanging and standing. Pay attention to the scale of the constructions comparing to the height of people. The central structure and all lamps are obviously real, while the plants on the sides of the image are most likely artistic fiction. Looking at the light of these conifer-looking lamps, I have no doubt that it is an electrical energy. Similarly to the previous images, the light does not come from individual sockets, but from the entire device, where concentration of the electric field is the highest. Also, pay attention to the luminous sphere on the top of the structure. French tabloid press of the 19th century has advertisements of some interesting artifacts for sale: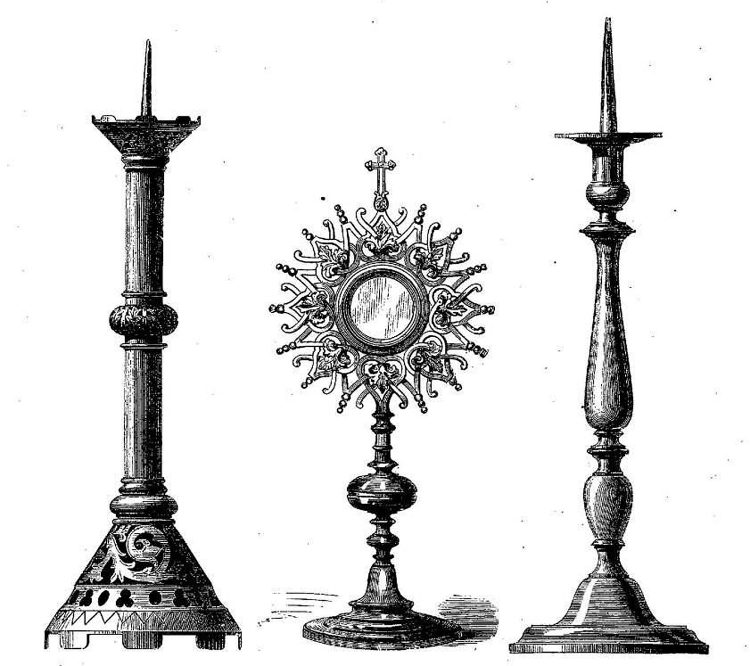 Fortunately for us, nobody figured out to censor tabloid press, where these items are titled - church lamps. How do they function? In corresponding archives of the 19th century, you can find the most detailed technical descriptions of gas lamps (from primitive to the most advanced of that time), with all the necessary schemes and blueprints. However, you won't find anything related to these "church lamps", which most probably light up when put into an electrical field, generated by a domical construction (or by some device hidden inside). It is not surprising, given that domes could be found almost everywhere, including temples, churches and even ordinary houses. The lamps used in festive urban illuminations were just bigger versions of the "church lamps".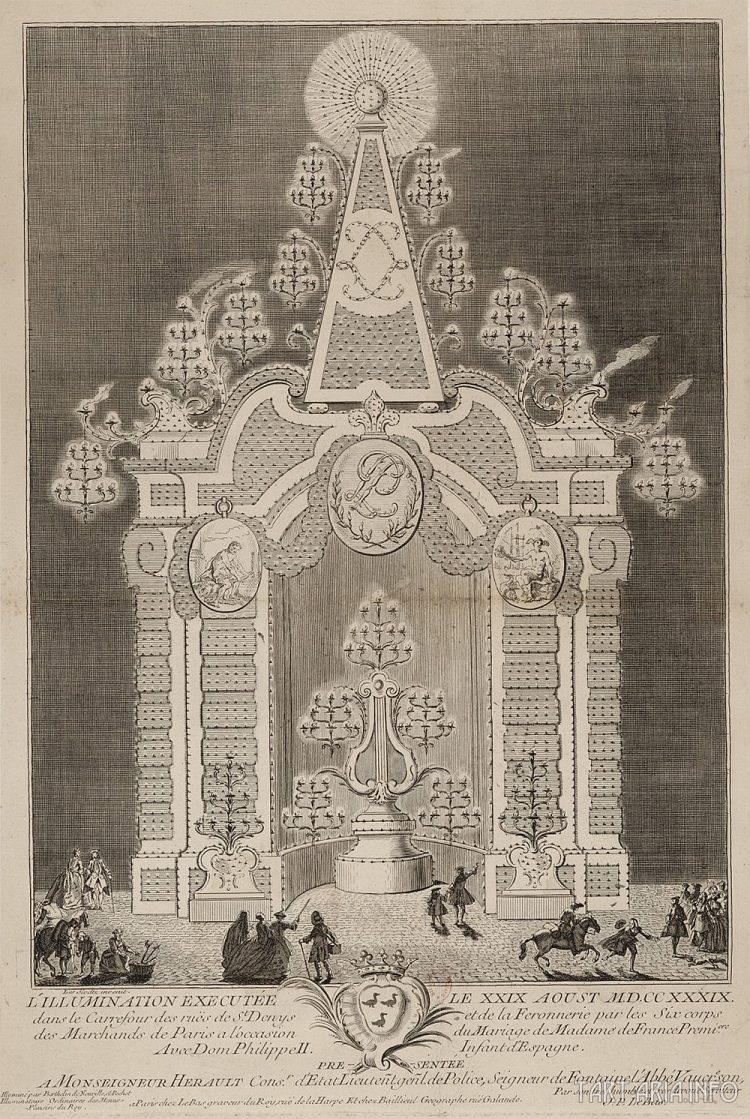 Fire, depicted above the lamps is probably an artist's fault. It is impossible to fuel all these lamps (with burning mixture), taking into account the scale and fire safety question.
An interesting fact: such illumination festivals used to be set up every Christmas. Detailed reports on the expenditure of treasury related to these festivals (since 1870) can be found in digital form. Subsequently, iron trees were replaced with conifers, and lights were changed to incandescent lamps (and later to LEDs).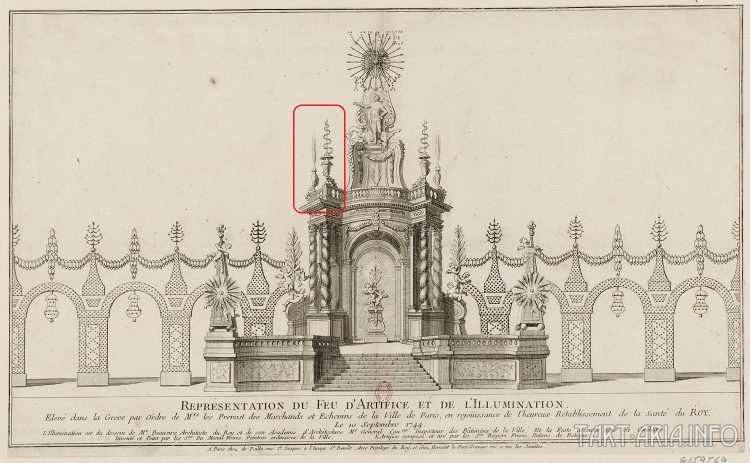 This one looks amazing. Pay attention to the shape of ether capacitors above the central columns. This construction used to function on a constant basis, it was just slightly decorated for the illumination festival. What you see behind is decoration. Conifers here resemble menorahs. Some balls hang on the decorations. Next image should be looked at closely.
Something burns in the lower left corner, probably fireworks, while the encircled area should be looked at with zoom.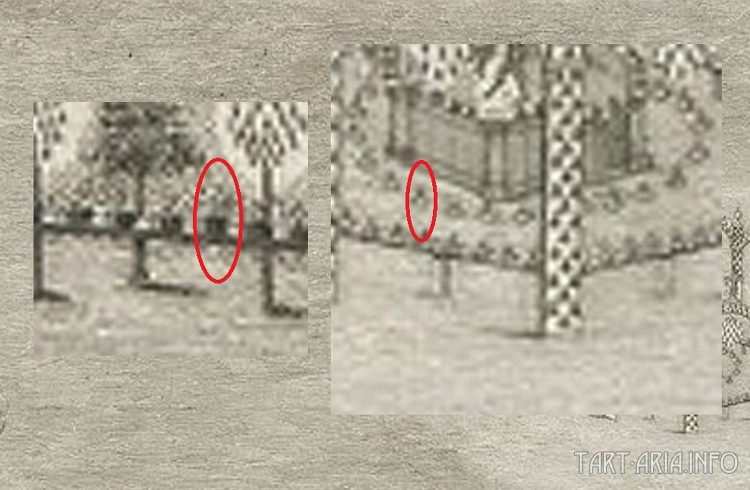 What do you see? It's nothing else than an ether capacitor in a form of a vase or a flower pot. I have a firm impression that the idea of putting potted plants on windowsills comes from here. The same applies to architecture. Ancient architects knew that any vegetation on the masonry destroyed it over time, so all plants were put into covered pots/vases. No architectural element of antiquity (excluding bearing elements), was just a decoration. Everything had a function. So did the vases. I suppose that their function was to store some substance (like mercury) that could concentrate ether.
Still have doubts? Here is another artifact.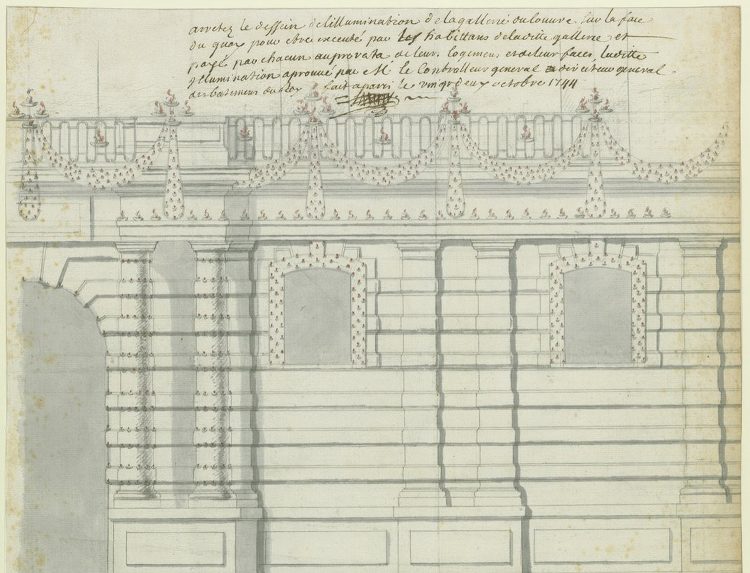 It is an illumination preparation blueprint that somehow managed to bypass censorship. Look at the amount of ether capacitors, big and small, hanging on some net and standing on ledges. These are not oil lamps (or any other similar lamps) because fire would blacken/damage the siding of the building. These are the very same devices that we saw in all previous images. Somehow, they concentrate the etheral field in a way that all external metallic bondings glow with light, as well as various lamps, conifers, menorahs and other decorative elements that appear within this field.
In order to get any information on these devices, I had to process many publications of the 19th century that were left untouched by censorship, like newspapers, booklets of expositions and other similar stuff. Information was very scarce, however, I managed to find a small bit of information in french in one of the publications: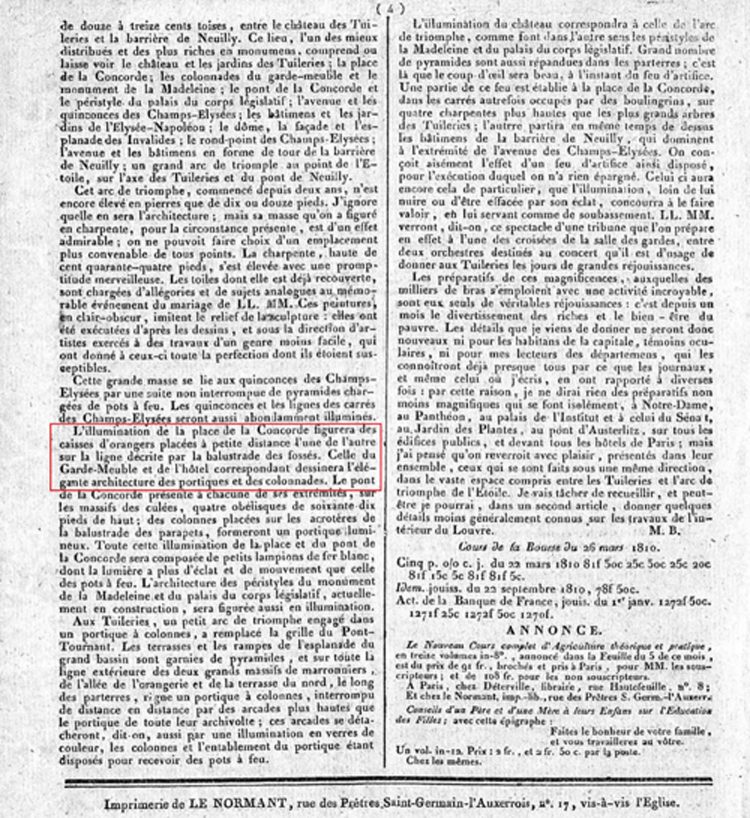 Out of this text, I found out that ether capacitors from the images were some kind of balls made of tin, with a special filling. If they had a steel sharp element attached to the top (in a form of a flower), they began to conduct electricity and glow with bright light.
Another interesting photo – tsar Nicolay II reception in Paris (late 19th century).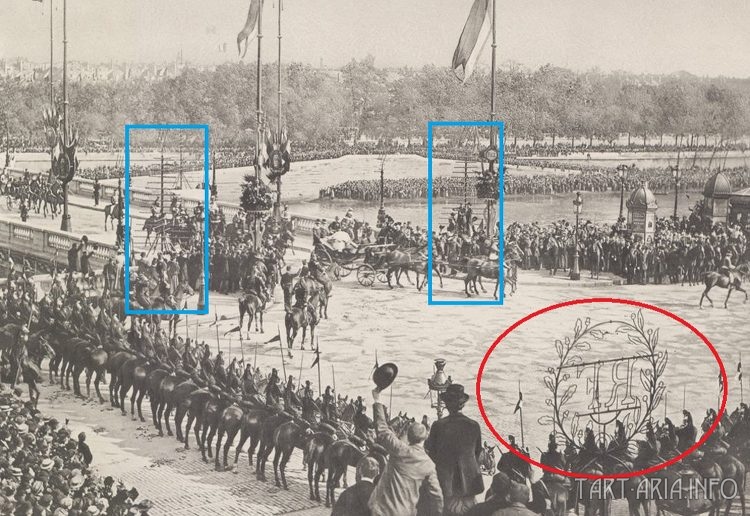 Pay attention to the metal thing encircled in red. It's a decorative metal logo of France (similar one for Russia should stand nearby), which used to glow, being charged by the devices encircled in blue. You probably think that they just didn't connect wires?
Ok, this one was from Europe, but what about Russia? Take a look at the following photos:
Can you guess the place and the time period? That's right, it is Moscow in the very beginning of the 20th century (Upper photo shows GUM – Main department store, lower – Kremlin). Photos taken during tsar Nicolay II inauguration. During the communist time there has never been anything like what you see in the photo. A simple question: how much power should a power plant have to provide all of it with electricity, if one running meter of light line took 4 light bulbs, 25 watt each? If you knew something about power plants in Moscow of that time, you would answer that there were no power plants of enough power to do that. It is the same kind of illumination, powered by some external artificial source. All of it was done with the help of ether capacitors, for free. Bolsheviks destroyed all of it for a purpose (by an order from a global elite).
There is even no need to put lamps on the Kremlin towers. If they have metallic bondings inside, all you have to do is create an electric field of enough power to light them up.
So, all these illuminations, temples, technical devices (like wireless trams) are results of the same natural process called – atmospheric electricity. Believe it or not - it is your own choice, but the amount of facts and documents on this topic has become too considerable to ignore it.
The last image for the conclusion – Paris exposition of electrical inventions (1890). Not kind of electricity we use today, as you may have already guessed.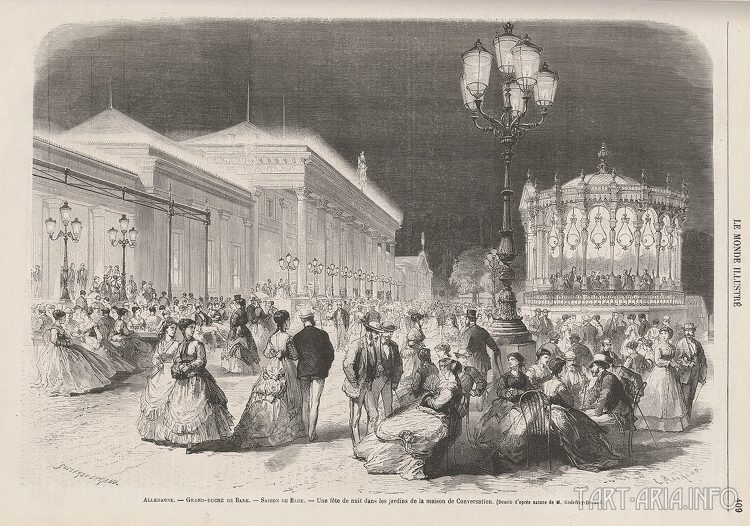 Pay attention to the roof of the building on the left. Do you really think that it was an artist's imagination?