Rushlight holder – Svetets [svɛtets] – светец, какой использовался для освещения бедных домов. In Russian language the pronunciation of this word sounds close to an entity that brings the light. 'Svet' means 'light' in Russian. 
Wooden chip / sliver – Luchina [Lutʃ ina] – горящий кусочек дерева. In Russian language the pronunciation of this word sounds close to the word 'Luch', which means 'ray of light'.
I believe that the majority of the readers do not need to imagine what a rushlight holder is. This simple device was intended for an economy-class housing housing, as some say nowadays. In fact, this is a kind of standing or suspended metal structure in which a wooden splinter was fixed and set on fire. The light thus obtained was the final product. Numerous writers and poets mentioned in their works how peasant women during long winter evenings harvested yarn, singing their songs in the light of chips of kindling wood. In more high-class houses where the people were richer, they could afford candles instead of using the rushlight holders. This sounds, of course, romantic, but immediately causes skepticism amongst sane people.
Despite the obvious technical inconsistency of such an idea to use the rushlight holder, many people are currently trying to reconstruct this process of obtaining light using chips of kindling wood. And all those who tried unanimously claimed - this is nonsense. Firstly, the light turned out to be very dim, secondly, the chip burned out very quickly, thirdly, with prolonged use of the chips, a small room was filled with smoke. This is not to mention fire safety. In those days they were afraid of fires more than epidemics. How then did that Rushlight holder work?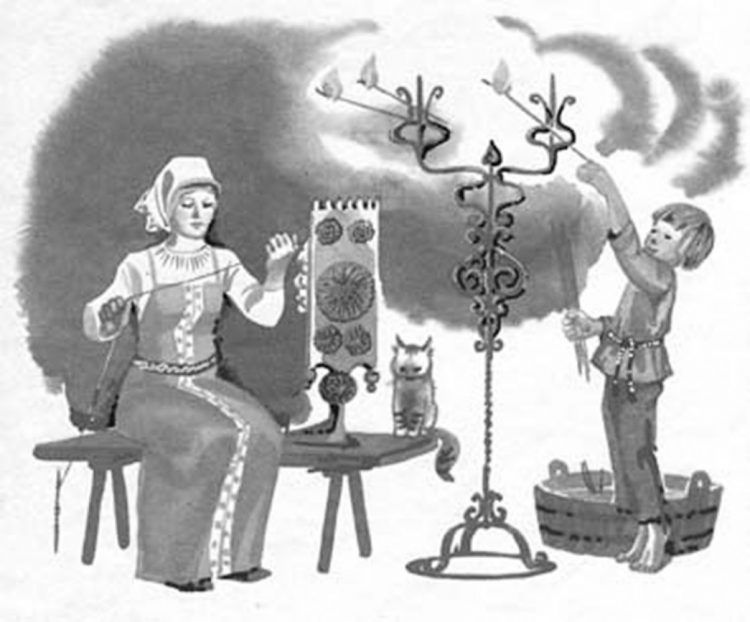 There are also many versions on this topic. Defenders of the theory of wooden chips (slivers) being dead-serious declare that in this case a special type of wood was used. And when preparing the chips, they were treated with a special composition. It sounds true, but in this case it is easier to use a conventional oil lamp of a primitive design, with a wick. They also seemed to be used as massively as the rushlight holder. And when did we begin to call wood chips as splinters? According to established tradition, we quote the greatest classic of the Russian language.
This poet is beyond any criticism, but in this case I still want to say a few words. Read the entire verse carefully. This, incidentally, is the only case when the poet in his works mentions the word "Rushlight holder" (at least according to Google). And why did he suddenly lead the verse in even quatrains, and in the end he suddenly cuts off one half? Perhaps he got tired of the heavy poetic work and fell asleep without completing it, and then forgot. Perhaps there was a case similar to the cartoon "Three from Prostokvashino" when someone else attributed the bottom two lines. But most likely, the poem was complete, just then the poet wrote about the Rushlight holder that now is not necessary for the average person to know. These lines were very clumsily deleted, leaving the other half of the quatrain in place. And really, what kind of burning wooden chip (sliver) can be on a racing horse trio? Nonsense. Most likely, the wooden chip became a sliver much later than the poet's death, when the reenactors of history began to adapt the available facts to the past for the generation with reloaded memory. And before this reboot, some other things were called slivers. But which ones?
Involuntarily, I recall the old map from a previous article on which in the modern location of the city of Ivanovo once stood the locality called 'Luch'. And for sure, with such an abundance of weavers in that place, this settlement could be imagined as having numerous rushlight holders [for weaving works].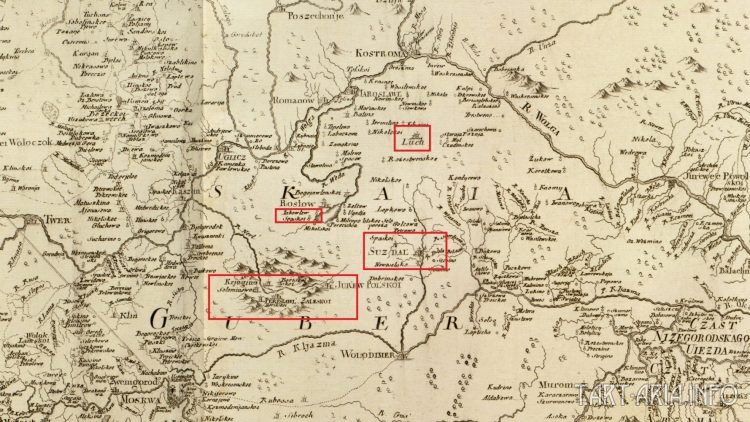 Indeed, how can weavers work on long winter evenings? Obviously, the Ray of light was an invariable attribute of weaving. Already somewhere in my previous works I mentioned that it was no accident under early socialism that almost all weaving manufacturing plants began to be called the "Red Ray" ("Krasniy Lutch"). At that time, the word "red" began to be attached to everything that attracted attention, for a better psychological perception of the new regime. Well, actually, a ray's purpose to attract attention, because it is a ray. Could Rushlight holders really burn so brightly, even with their seeming imperfection? Well, since the ray attracted attention, the answer is irrefutable. What kind of an interesting ray is this? And to answer this question, we again turn to the famous European auction of antiques.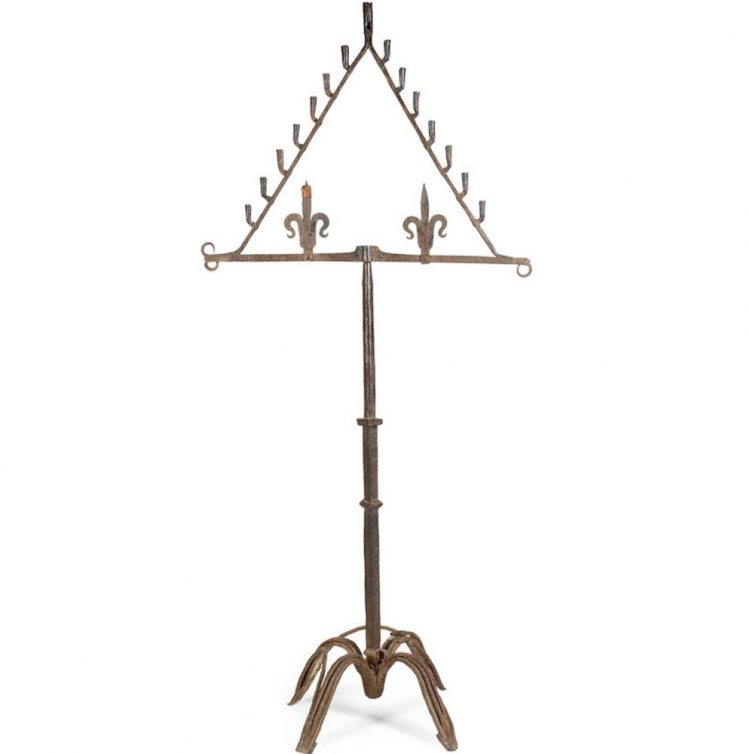 It is interesting that the construction of this rushlight holder is mimicking something? With its silhouette, it resembles a house, on the roof of which at a certain interval there are candles. Probably, similar houses existed earlier, only now nothing similar can be found. But surprisingly, the drawings of such houses were partially preserved.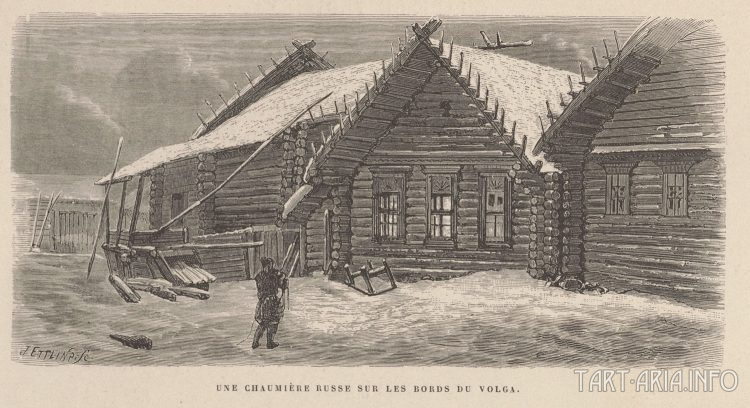 This is not a single case. Roofs of almost all Russian Terems (a traditional wooden cottage in Russia) were decorated with similar rungs. Presumably, not wooden chips or slivers burned on them at all. Our rushlight holder suddenly gets a certain complexity. Why did they put such an architectural lighting on the houses? And how did it work? But if in old town of Ivanovo all the houses were made this way, the town's name could rightfully be called Luch (Ray). At night this city looked, one must think, very beautiful. And in every house there was a weaving mini-factory. Illuminated by the rays of unclear elemental power, but not at all by the wooden chips.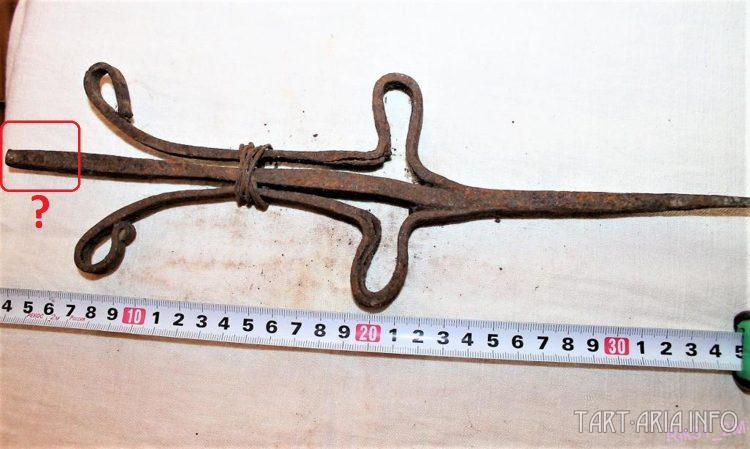 Similar artifacts are available in sufficient quantities in almost every local history museum in central Russia. What is it? We are told that this is the exact rushlight holder. Judging by its appearance, it was drived into a wooden wall. How did it hold a torch, if in this case there would be about 100 mm from the flame to the wooden wall and the fire would be almost guaranteed at the first time of inattention? This item is more like a bracket that supported an iron strip on wooden walls. And even if it was holding fire on itself, it should have had some continuation upward (to the left in the photo). But on all copies there is no such continuation upward. Absolutely. Perhaps it was cut down. It is possible that it was not there at all, and this is just a bracket for supporting the strip on wooden walls, and it did not carry any direct lighting functions. It was simply put on a museum exposition in the right context, as it very often happens with many artifacts. Simply because it was necessary to somehow explain its purpose.
Surprisingly, there are some very interesting artifacts in foreign antique trading floors that are difficult to explain today. Even an online auction site in most cases does not try to do this, simply stating the material of manufacture.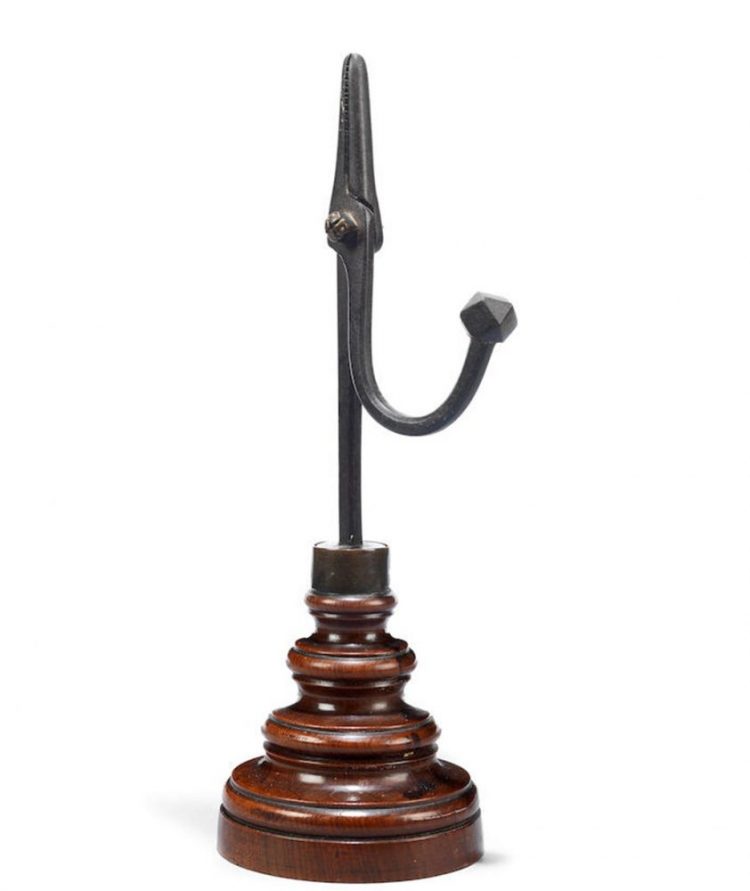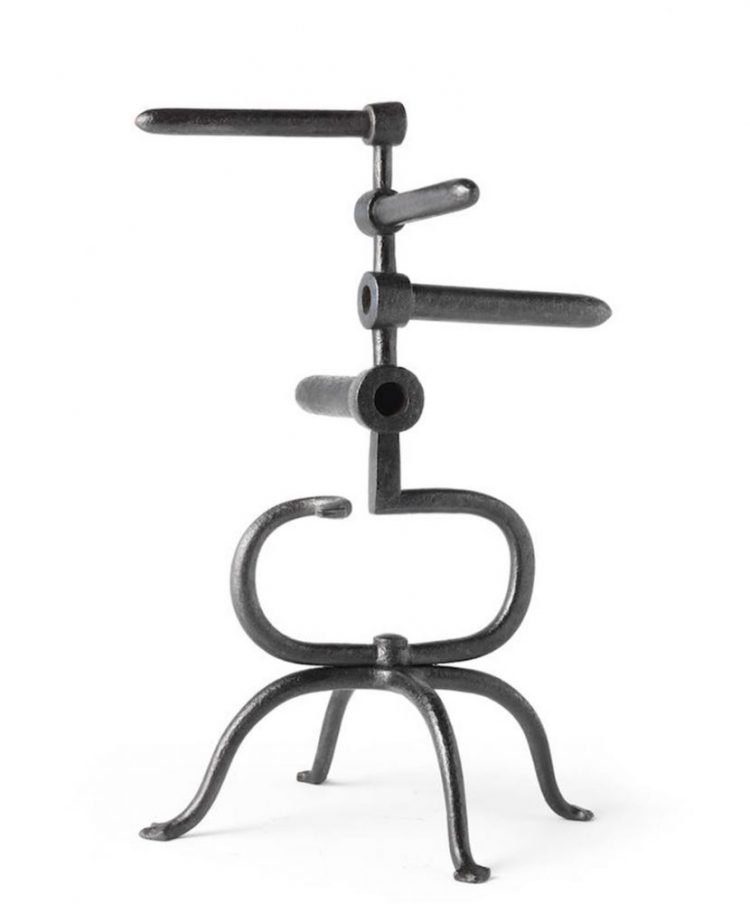 Both of these products are mentioned in the context of household appliances of the 18th century and are called the hard-to-translate word rushnip, although the second is also referred to as a curling iron, i.e. a device that is used in the heat treatment of organic materials, such as hair or fabrics. What is this all about?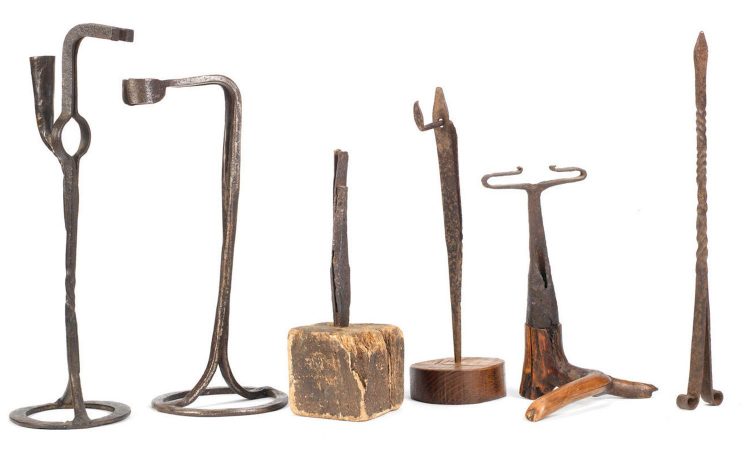 All this does not find an explanation at all and is more like a set of pieces of iron made in our time in antiquity. It is possible that this could be the case in our case. Let's try to deal with each subject individually.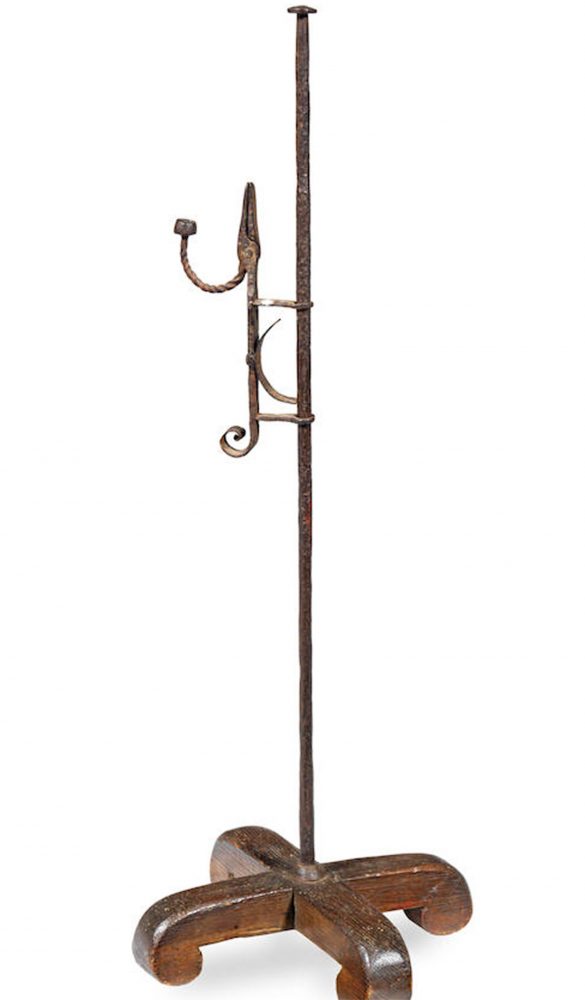 As you can see, our rushlight holder of the first type in this case is an integral part of a more complex device. Those exact pliers are already mounted on a metal pole. And where was it necessary to insert a wooden chip? In those pliers, really? Of course not. At best, a light-reflecting sheet or lampshade that worked on a lighting device was inserted into these pliers. And the device itself was mounted on a nearby hinge, and by its gravity this device supported the forceps in a closed state. A fairly simple design, but there is absolutely no place for burning pieces of wood. How so? We look at another similar item (all items from are taken different auction lots, chronologically spaced over several years).
Each time, our rushlight holder pliers is becoming more and more civilized, turning into a completely familiar lighting floor lamp. Of course, an electric floor lamp, only the wires in it are not observed at all. Let's see its top more closely.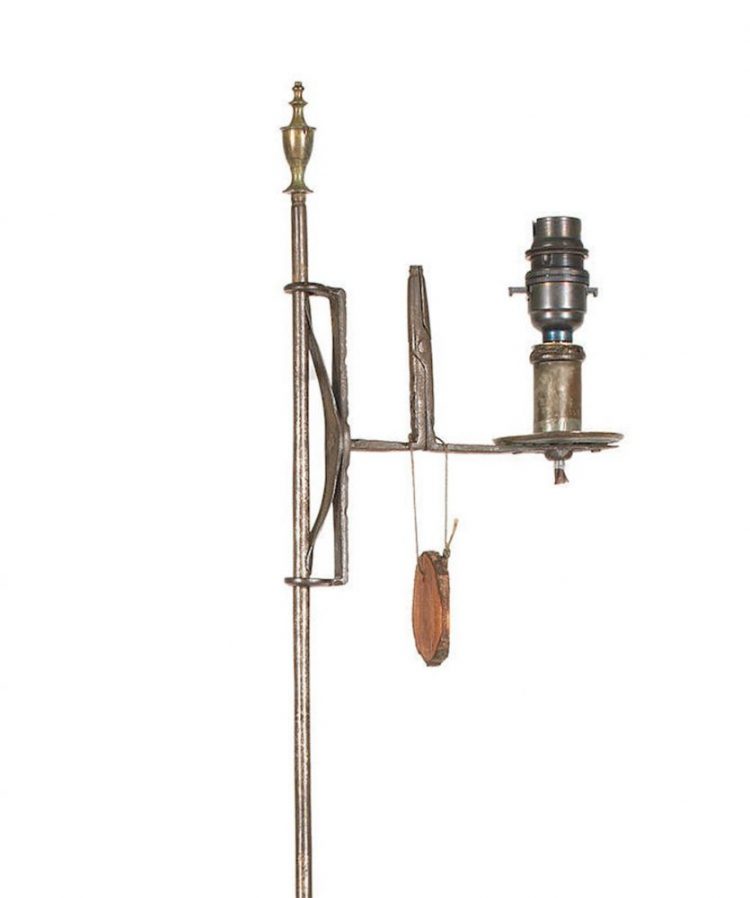 The diagnosis is clear - our rushlight holder is a regular floor lamp, only the bulb socket is made from metal. Nowadays, of course, this is nonsense. Maybe it's not a bulb socket at all? Let us take a look at the top of another similar exemplar.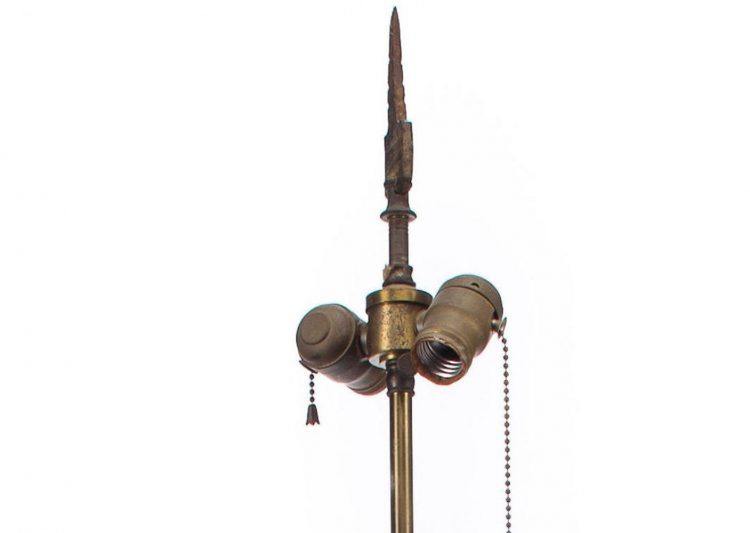 There is absolutely no mistake. This is a bulb socket. And the owner of this floor lamp was not at all afraid that he would be shocked by touching such a structure. But how did the switch work in this case, if such a lamp had no wires? And what kind of lamps were they if their circuit breaker touched a metal cartridge with a metal chain? It's simple, the power supply was single-wire, and contact was made to the central output of the lamp base. The threaded contact here served only for the mechanical stability of the lamp cap in the socket. And the lamp itself conveniently rotated on a hinge, providing the desired angle of illumination.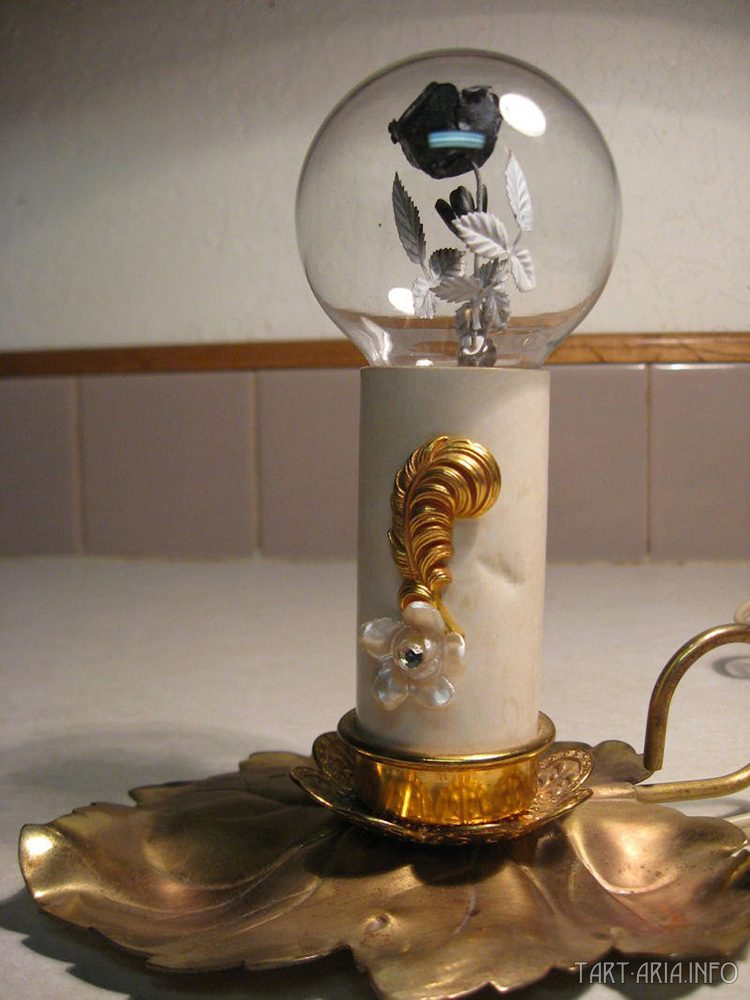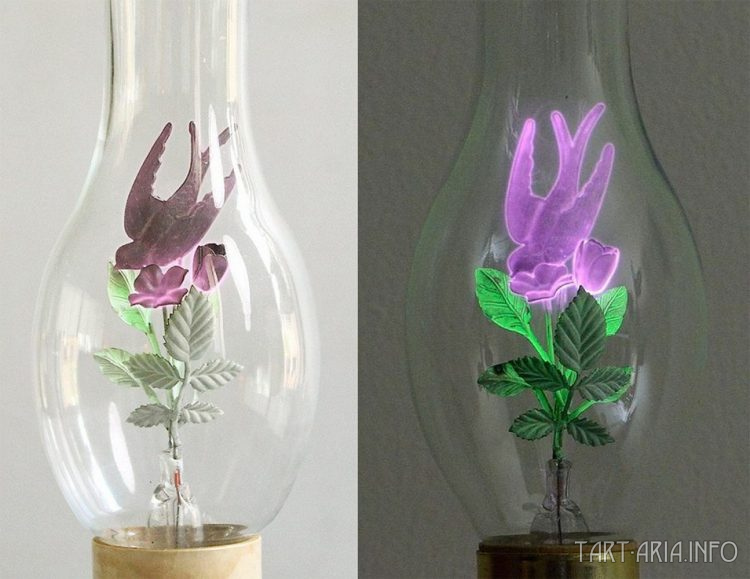 These lamps are still shown in some museums in their current form. True that they are already adapted to the modern electric supply network, which was completely absent at the time when these lamps were made. And as you already understood, museums display some spare parts from completely civilized lighting devices and call them Rushlight holders. These devices are nowadays not used anywhere by their principle of action. And Russian museums display, among other things, spare parts which condition is far from the best and most relevant.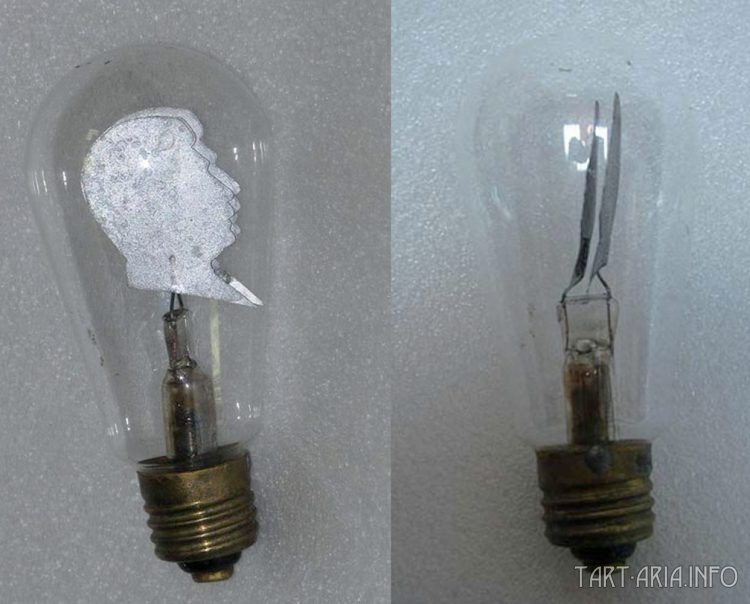 м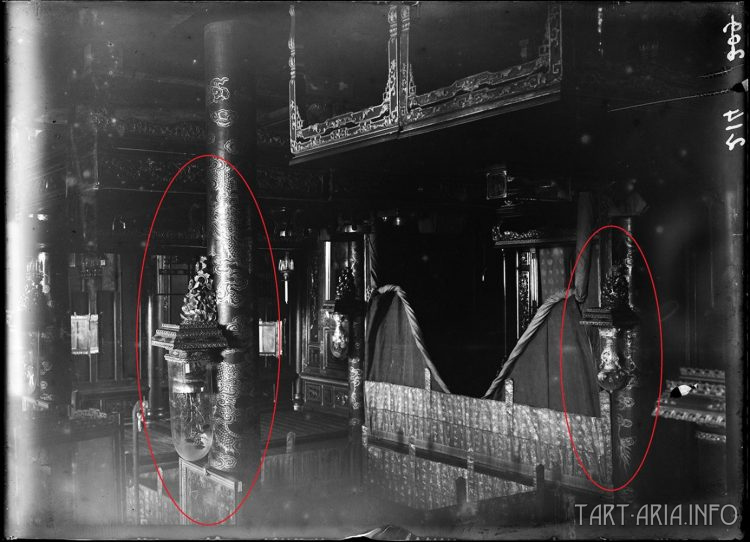 This is one of the pagodas of French Vietnam, a sample of the beginning of the 20th century. How this technical solution for lighting appeared there is completely unknown. It may have remained after the Mughal Empire and accidentally fell into the photographer's lens, but not the point. Currently, such artifacts in Asian pagodas are not found anywhere (experts, please correct me on this fact). Pagoda is a wooden structure of unknown purpose. For some reason, no one pays attention to the fact that its name very much resembles the Slavic word "weather" ('pogoda'). And in any case, such lamps could not burn without metal conductors. Obviously, iron structures were somehow present inside such wooden structures. And most likely, the rushlight holder was used for maintaining an electrical contact with such lamps. Naturally, only where there was a need for it. In the presence of capital iron structures, lamps were hung directly on them. And such devices also looked quite civilized, and from a designer point of view, even beautiful.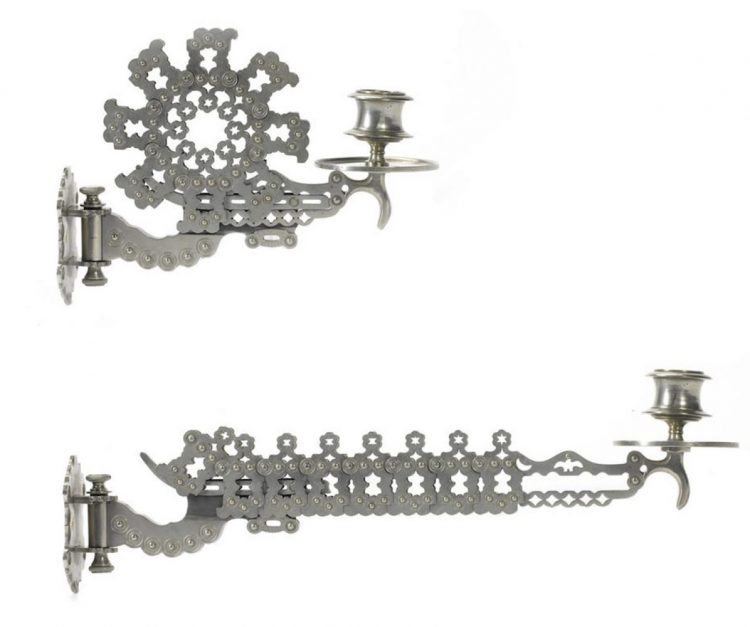 But what was in the residential buildings for the middle and wealthy class? Actually, there was no need to use the rushlight holder. All lighting fixtures, although using the same principle, were mounted under high ceilings on luxurious chandeliers.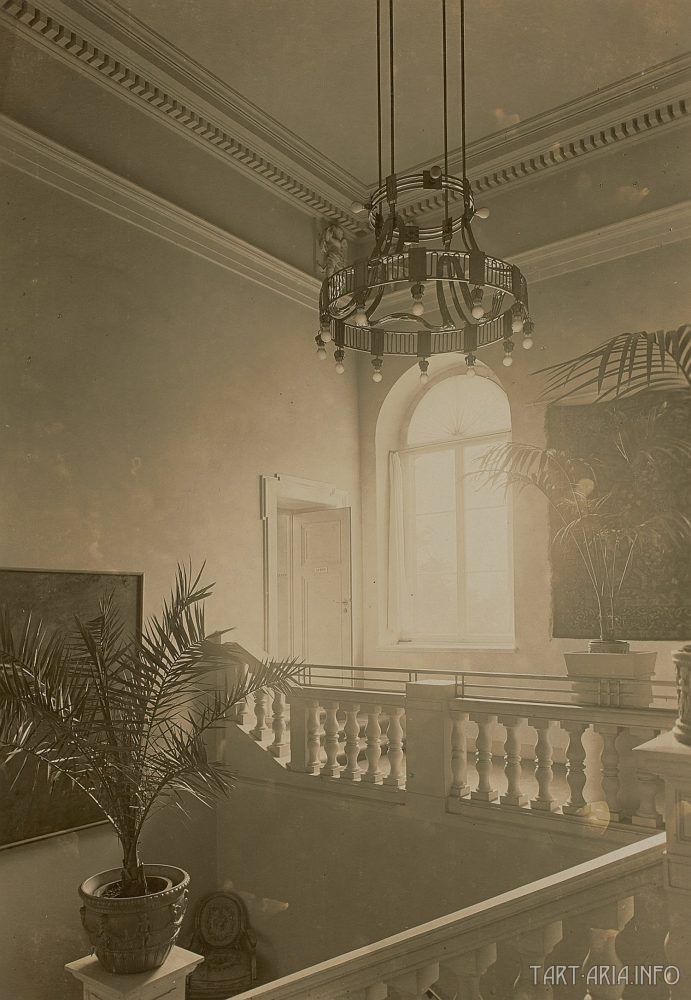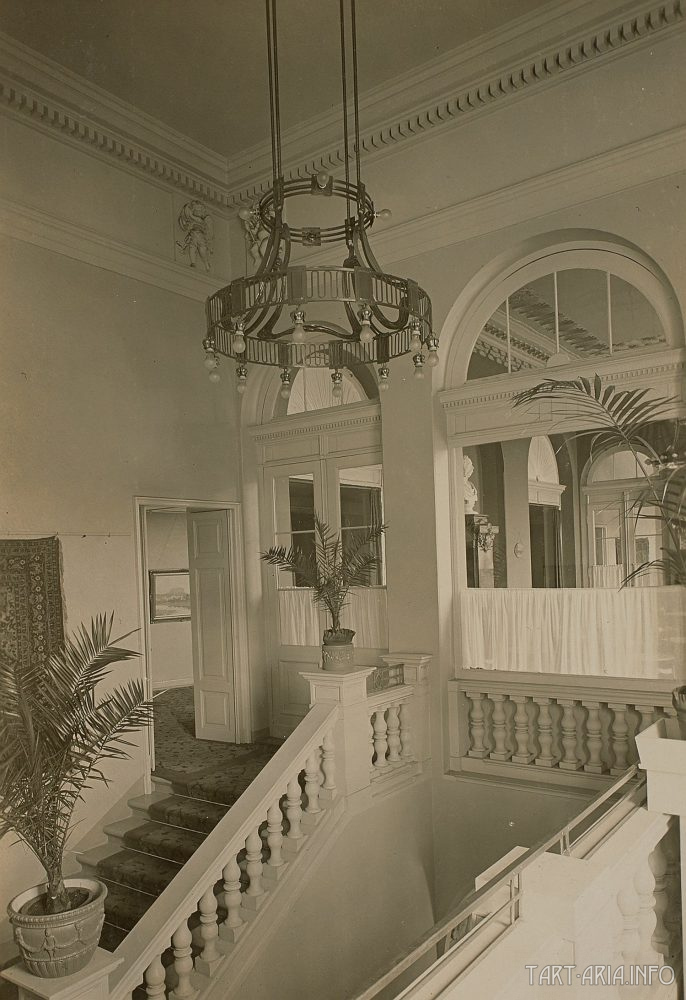 There are a lot of photos of such chandeliers in the works of many researchers. And there were a lot of heated discussions about whether they have hidden electrical wires or not. I suppose now no one will argue that there were no wires in them. The frame of this chandelier was the only wire, and to tuen such chandeliers on, one needed to connect it to the metal frame of the building. Under the false panels of the walls there was a device similar to a window bolt / espagnolette (a very interesting word, by the way), which made such contact.
There was even an antique sample of the lamp, which, after one last publication, gave a boost to the imagination of numerous bloggers.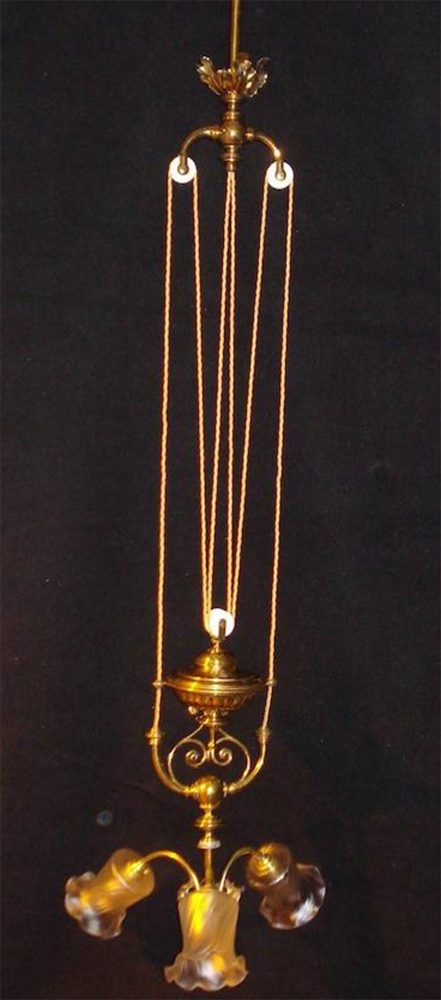 As we recall, with the quality of insulation of wires of the late 19th century, any use of them in this way would lead to a short circuit very soon. There are absolutely no insulated wires. And those harnesses were ordinary bare copper (or brass) wire, they served to move up and down an incomprehensible suspension (there was a separate story about that in the previous article). This suspension was the secret of the 'magic' of burning lamps, but let us elaborate more on that later.
For those who are especially in doubt, I will give one more photo.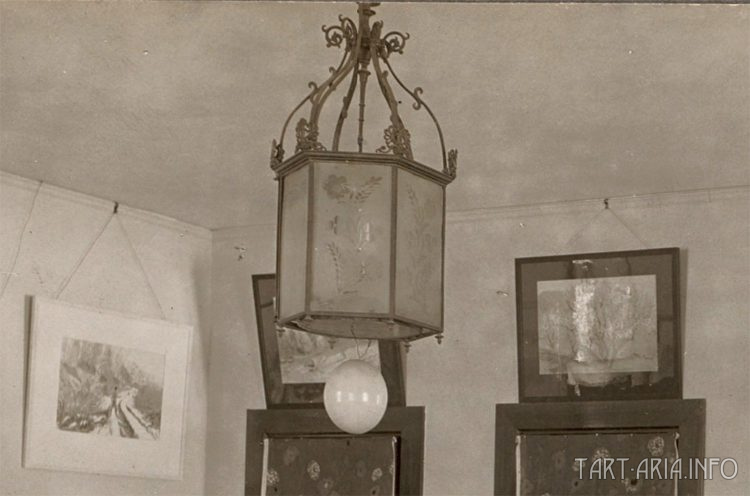 This is the very mysterious "milky ball" that was mentioned in all the works on the descriptions of the illumination systems of the 17, 18 and 19 centuries. Lomonosov probably referred to it in his works. And many more who described it. Take a look at how it is connected. Just two bare wires connected to the body of the chandelier. And these two wires were needed only for bundling such balls into garlands.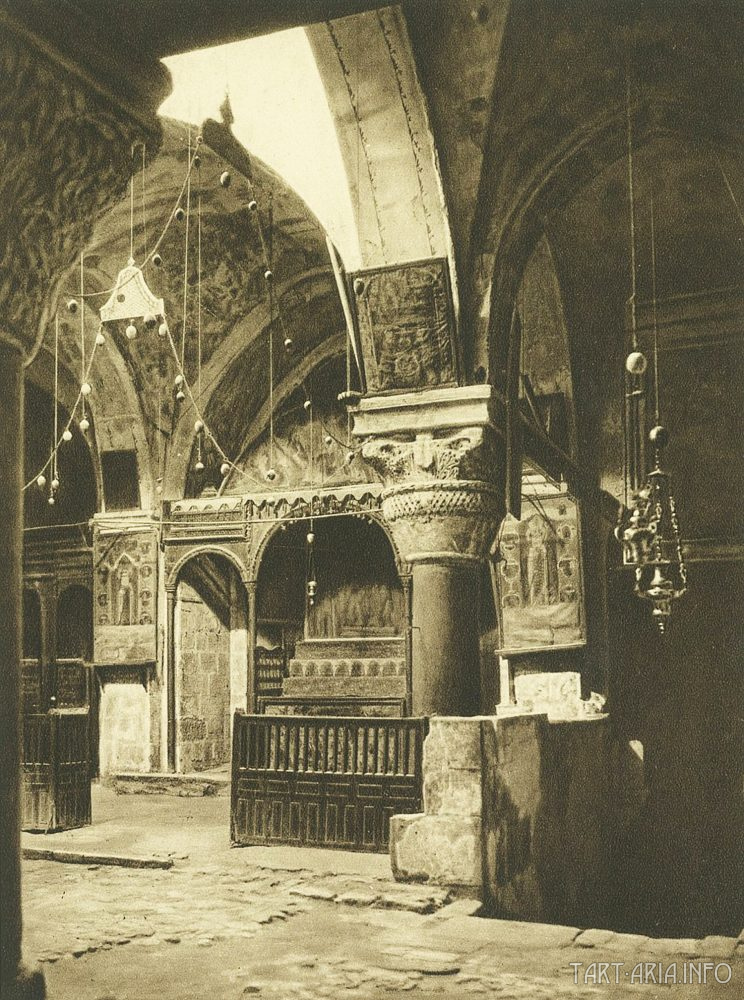 Probably, this ball served as a prototype of modern "antique" lighting fixtures, which are found everywhere in Russian cities, for example, in the metro. Only they do not hang it on the wire, but install it on bronze columns. This is also a kind of rushlight holder. Well, or the now forgotten energy engineering of the past.
And yet, what element gave light in such devices? The question remains open. Modern science explains the burning of such electrical appliances by the fact that the supply network creates the ionization of the inert gas inside the lamps, and this in turn causes a glow. It seems to be simple and clear, but an antique auction gives out new interesting things.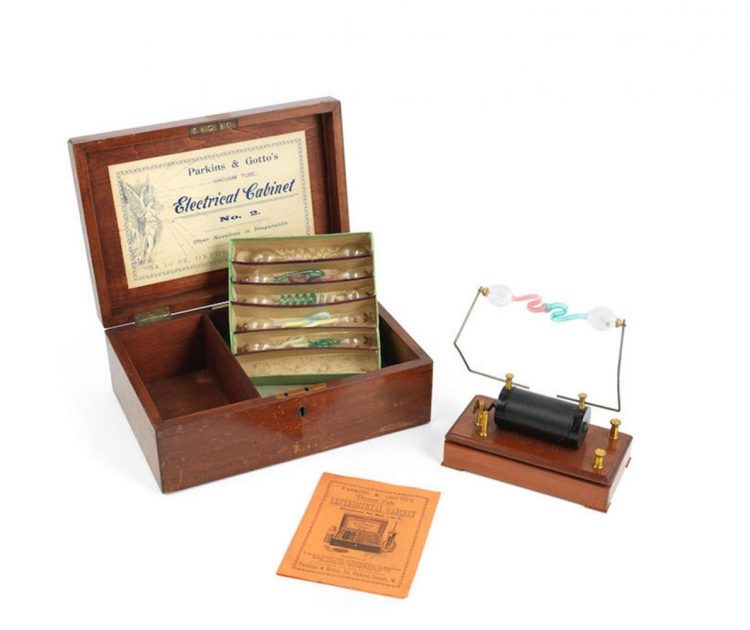 This is a common demonstration device for electrical effects. Probably, it was the equipment for school experiments in physics of that time or just a children's toy. It was based on the glow of "Geisler tubes", which were essentially discharge lamps, in an electric field. And this electric field, in turn, was created by the Rumkorf coil. Nothing unusual in general, if not for the label at the bottom of this lot.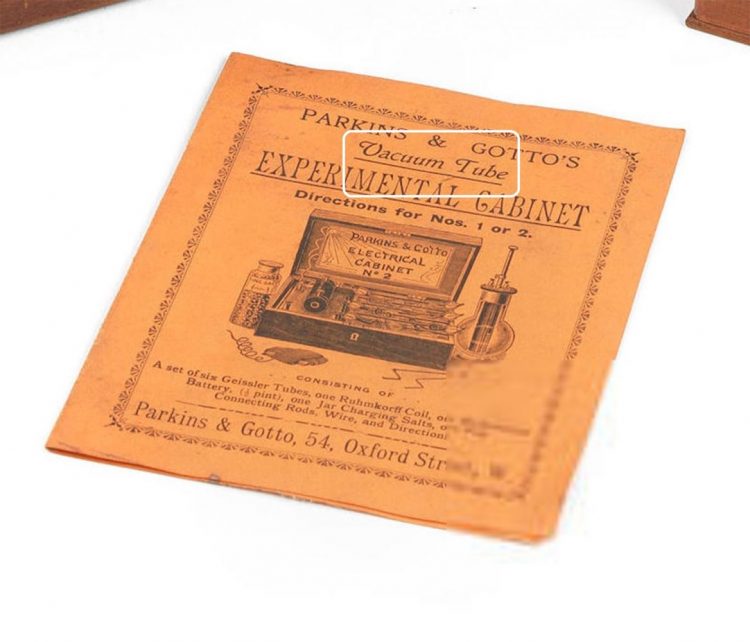 It turns out that all these tubes are neither more nor less vacuum. If translated into ordinary language, then there is nothing in them. No inert gases, no drops of mercury, no phosphor sputtering on the walls, as in modern lighting devices. Nothing at all. Of course, there is no perfect vacuum in man-made form, and we will assume that there was very rarefied air inside the tubes.

Decorativeness to such tubes was given only by the color of the glass from which they were made. And the light of the burning vacuum in them (sounds very challenging) with the usual transparent glass was always the same.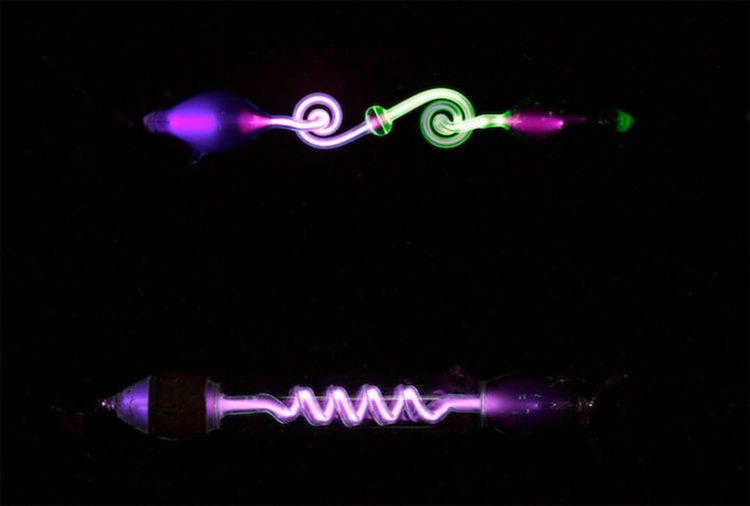 What exactly burned with such beautiful light in this very vacuum?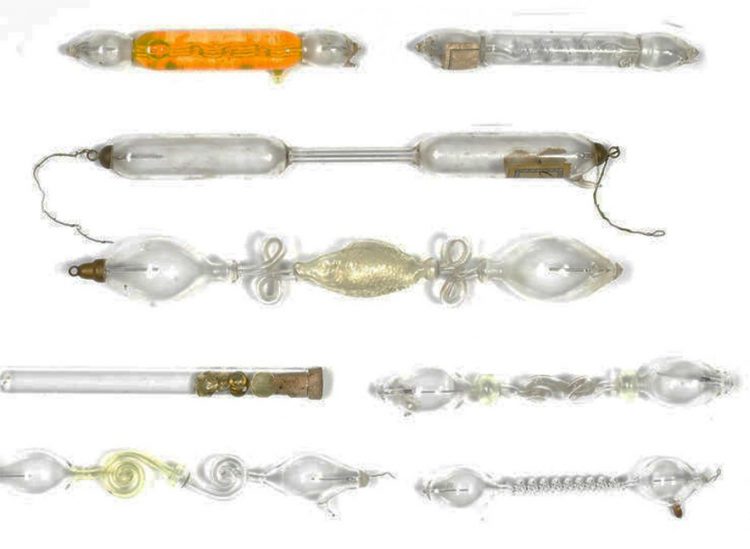 The most difficult in these tubes was the work of a glassblower. And the rest was elementary. Two sealed electrodes from opposite ends, air is pumped out, that's all. It turns out that the light itself was born out of nothing. But this just can not happen. We look further.

In this set, we can already observe, besides a similar lamp (in the photo on the right), the cracked screens in the box. What do you think they are for?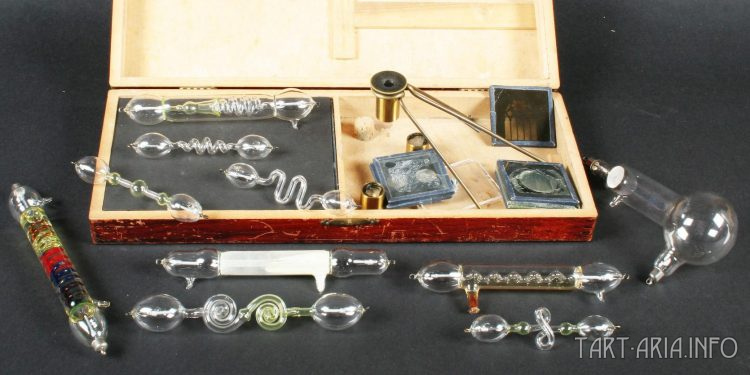 That's right, this is a stand for demonstrating x-ray radiation, albeit a little primitive. Apparently, in the old days they were not at all afraid of such rays. X-ray tubes were also previously included in the network from Rumkorff coils. Only now there is almost no information about this.
The main structural elements of the x-ray tube are a metal cathode and anode (previously also called anticathode). When heated, the cathode emits electrons (thermionic emission occurs). Further, due to the large potential difference between the cathode and the anode (tens to hundreds of kilovolts), the electron flow accelerates and gains more energy. The resulting accelerated electron beam hits a positively charged anode. Reaching the anode, the electrons experience sharp braking, instantly losing most of the energy acquired. In this case, bremsstrahlung of the X-ray range occurs. In the process of braking, only about 1% of the kinetic energy of an electron goes to x-ray radiation, 99% of the energy is converted into heat.
I believe that all technically competent readers, who are over 40, have a very good idea of ​​what thermionic emission is, and even observed it in tube receivers. If anyone does not know, this is the emission of electrons from a metal into the environment under the influence of strong heating. A distinctive feature of all devices using thermionic emission are two additional electrodes for the electric glow circuit. Now let's look at these primitive x-ray tubes and try to find these additional electrodes. We will not find them. What was so mysterious about Rumkorf's coil that produced x-rays in unheated tubing electrodes and why was it subsequently replaced with a Tesla transformer?
With respect to Rumkorf's coil, one printed work was found that looked more like a popular science tabloid press, naturally with the flair of a newspaper hoax. But some things from it deserve attention. This is a device that was demonstrated at some exhibition of the achievements of capitalist labor of that time.
In this scheme, 4 Rumkorf coils are utilized, connected to each other in a somewhat strange way, and they have one common breaker controlled by a Bunsen element. People who understand electrical circuits will immediately find several oddities. The main one - why do we need some kind of external battery, which is behind the scenes? By the way, there are many schemes for switching on Rumkorff coils, where 4 wires are suitable for it from the outside, but the batteries themselves are not depicted anywhere. Despite the fact that the coil and other elements are painted in great detail. And probably, it is necessary to bring a few passages from the technical description of the device assembled in the figure.
Let us now summarize the benefits gained by the Rumkorf machine, the results of which, as the report rightly states, have become popular.

It charges almost instantly; its spark ignites fuel, melts the most refractory metals and solids, reproduces all the effects of lightning and produces electrical vibrations, passing them through the glass walls of a vessel 10 cm thick (obviously, without breaking the walls - auth.). This allows you to decompose the water in the vessel into vapors and quickly combine them with air elements, and thus restore nitric acid with their help.

The Commission also notes that a very useful acquisition in Meteor physics is that the spark of the Rumkorf machine consists of two dynamic parts: an instantaneous line of fire and a halo, the duration of which is measurable. A magnet deflects a halo; it captures this moving body, and the electric spark, thus separated, continues its movement in two lines simultaneously, until the passage of the galvanic current is interrupted.

............................

The list of other applications of the Rumkorf system is very long. We add only that it is used to measure the speed of balls left by an artillery gun; that she supplied the Lenoir gas machine with the means necessary for periodic ignition, from which this machine borrowed its mechanical strength; that the system finds daily use in the operation of quarries, tunneling, mine blasting, etc.
For those who do not have any idea: 
Halo (from ancient Greek: ἅλως "circle, disk"); also aura, gloriole, aureole - a group of atmospheric optical phenomena characterized by the appearance of a secondary glow around a light source, usually in the form of a circle, ring, arc, light column or "diamond dust".
Does this text accidentally cause any associations? Mr. Rumkorf seems to have left a mark on history, not only and not so much with his reel. He perfectly knew what elements in the atmosphere he was indignant at, and what consequences this could cause, even to the controlled shooting of underground tunnels by the very same museum guns. And such things as thermionic emission were too primitive for him. He could have highlighted the glass tubes without it. As it was way below his level.
And yet, what kind of secret battery did Rumkorf connect to his coil in order to produce such super-achievements? Let us leave this question unanswered for now and move on to the second type of rushlight holder.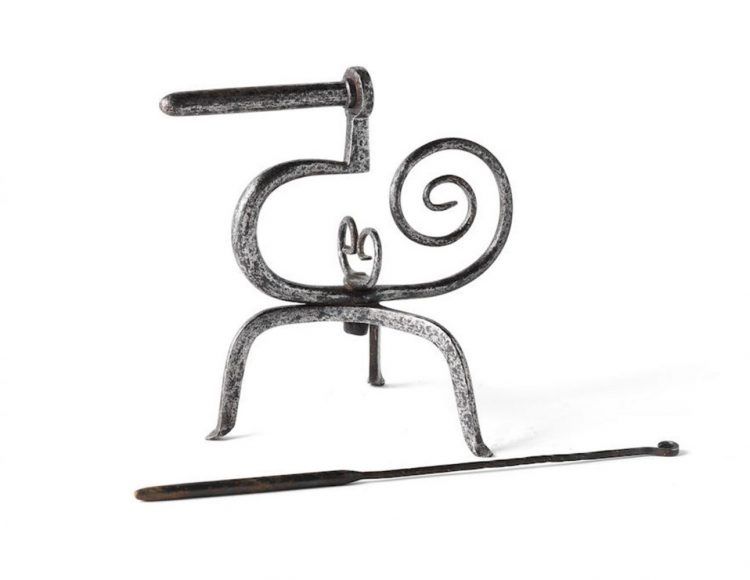 As already mentioned, in some places it is called a curling iron. Obviously, with its help, something was heated for subsequent deformation. There seemed to be no highlighting here. At first glance, it might seem that this is not a rushlight holder. Nevertheless, it has the most direct relation to rushlight holders, and then it will be clear why.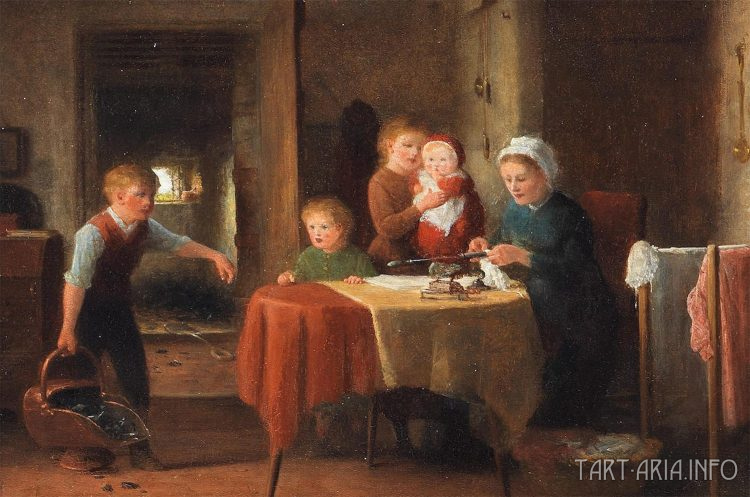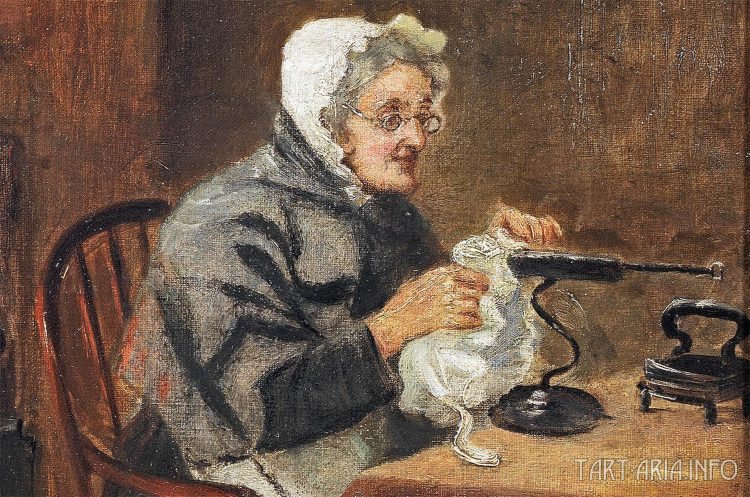 In these old paintings it is seen that with the help of these very tricks, housewives smoothed little cuffs on bonnets. To do this, they inserted a heated rake with a knob into the curling irons. These rakes are also sometimes attached to the curling irons in the kit, when selling them at auction. There seems to be nothing unusual.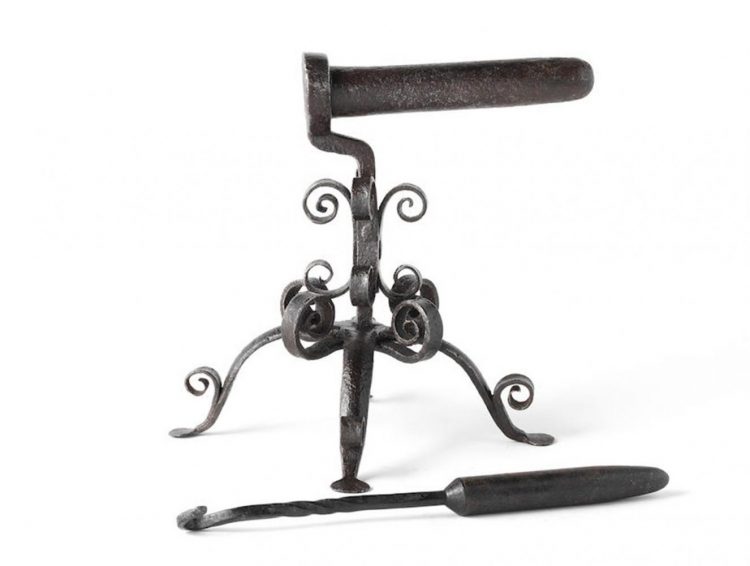 Why are there so many metal curls on such a simple instrument? Very strange. Maybe for beauty, but in the paintings of artists not a single one of them is visible. Or maybe such a curling iron can also be brought into a civilized form, similar to the floor lamps above?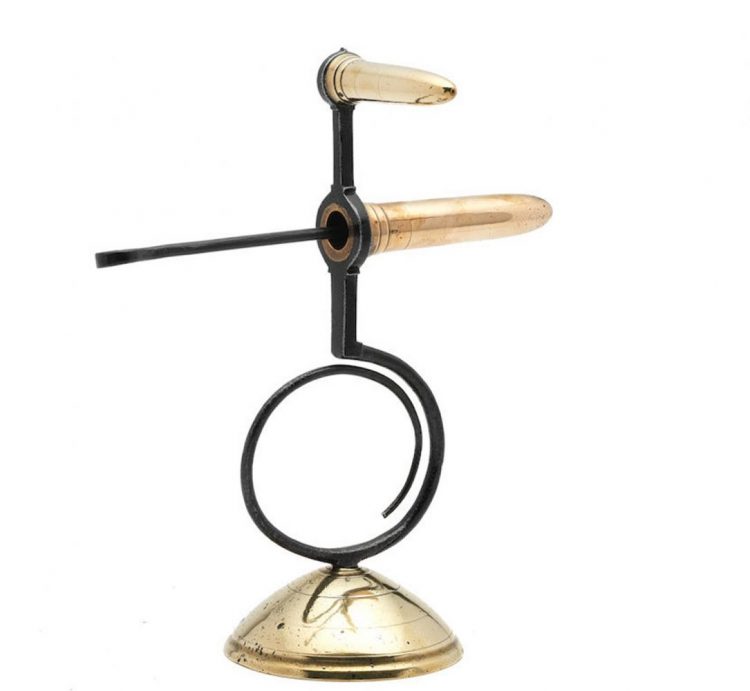 Oops ... Something is starting to turn out. Even in the description of the lot it is written that brass is present in the design. How could a red-hot rake be crammed into such a brass piece? For a durable use, it would not be enough. And the bent petal again suggests that it is not here for beauty at all. It more closely resembles the primitive design of a capacitor from Avramenko's plug.
Here, perhaps, a small digression should be made. Avramenko's plug is the simplest device that allows you to receive radiant energy from the air. His schemes are present on the network a lot, as well as versions of the principles of work. A sufficient number of videos are available demonstrating the generation of Avramenko's plugs' "cold electricity" and using it to receive light on ordinary incandescent lamps. At the same time, the lamps do not heat up at all, there are videos where they are even immersed in water in a burning state. Radiant energy is that type of energy that (as if) is dissolved in space and which many are trying to find now. The name of this energy comes from the Latin radius - Ray. Yes, yes, that same Ray.
If in this case there is also an analogue of the Avramenko plug, then where are the rectifier diodes in this case? The answer is quite simple - there is no need for them. In the metal structures of the building, the polarized potential of the very element that is now called "cold electricity" already existed. And when this potential was applied to a special type of metal construction (even a rushlight holder), on which the devices of the desired purpose are fixed, it was possible to obtain light or heat depending on the type of device.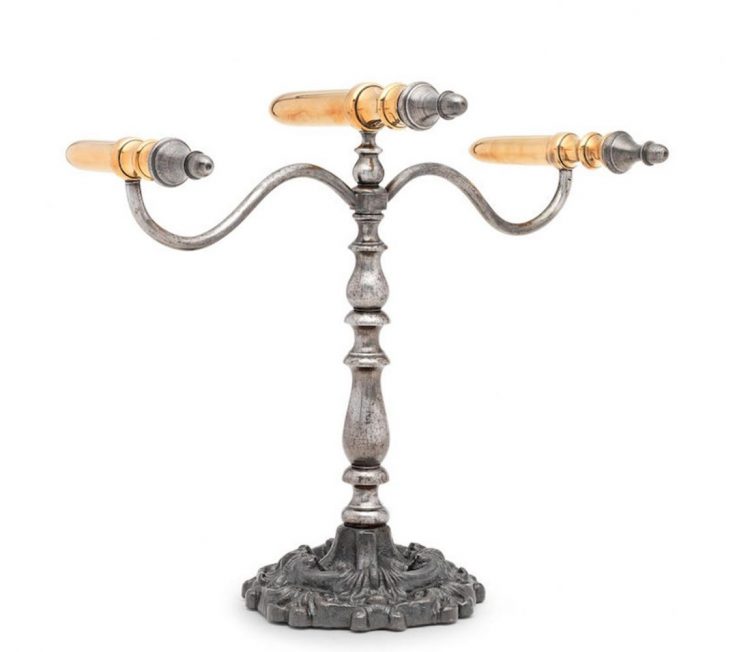 And this is our curling iron in a normal, civilized form. No incandescent objects were originally inserted into it, it was more likely an invention from the 19th century. The whole secret was in some items, recessed in brass fireboxes. The photo shows only the iron handles of these certain objects. What are these objects?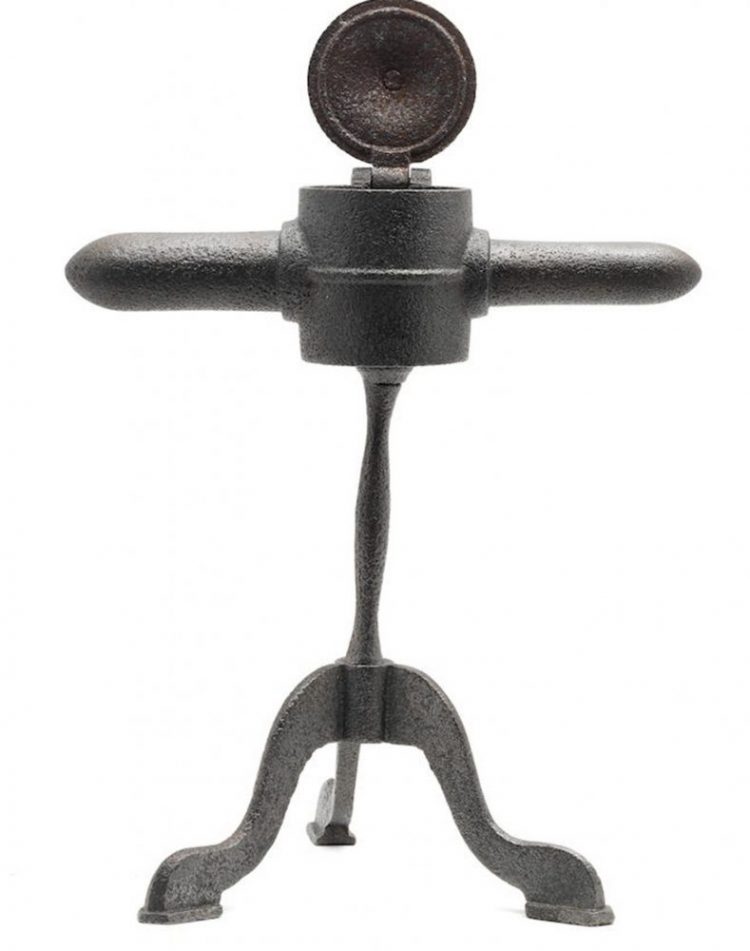 And this is the same curling iron, only of a slightly different kind. If this is really a genuine antiquarian item, then the secret of those very recessed items becomes meaningless. These objects, in turn, were containers with some kind of liquid substance. I suppose many have already guessed which one. The situation is completely reminiscent of samovars and dumbbells, obviously, the principle of action was completely similar. Only in a samovar did the pipe give external potential. And in this case, probably, this function was performed by a metal table.
And why in all the paintings next to such a curling iron was always an iron? Logically, these are both objects of the same purpose. And if you mentally turn the curling iron nose down, slightly change the design of this, if I may say, receiver of something liquid and attach a pen, we get the most that is a real iron. This is also a kind of rushlight holder, only from the energy of the past.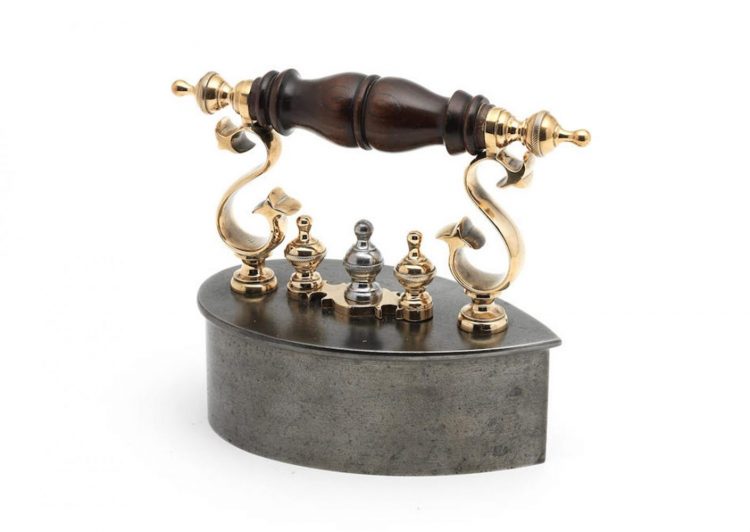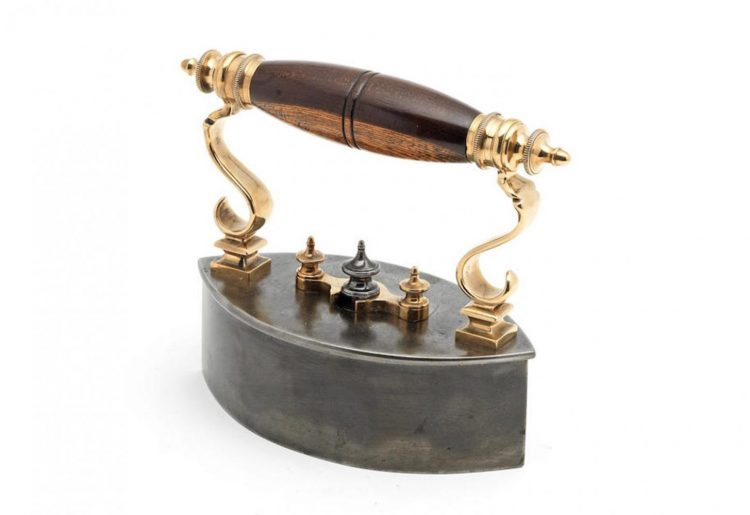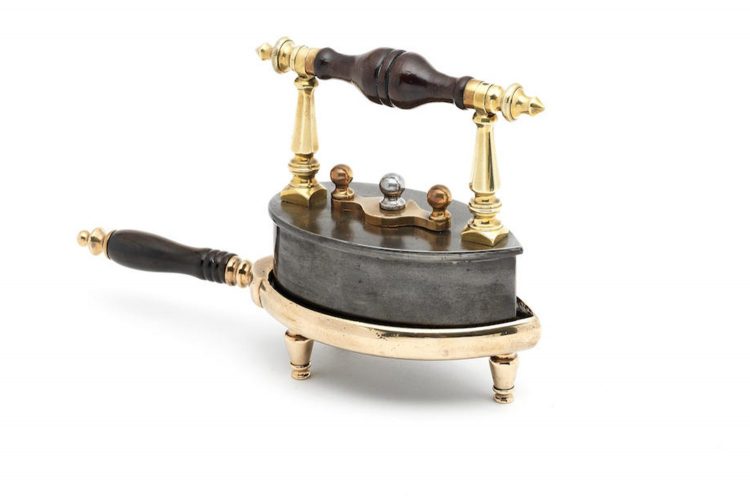 This is not a sham at all, but real working irons from the beginning of the 19th century (according to the auction site). No one explains their principle of action, of course. I would venture to assume that they doesn't even know. However, the most interesting parts of these irons have long been removed. The secret of the irons was in their coasters, standing on an iron table. If you put the iron on them and hold it for some time, then it warms up to the desired temperature, and then everything is as intended. Coal irons came to replace them, for heating them it was necessary to swing them. This process is recorded in places in the old newsreel. The scientific and technological revolution had already taken place by then.
Do you think this is the end of our story of a rushlight holder? Not at all.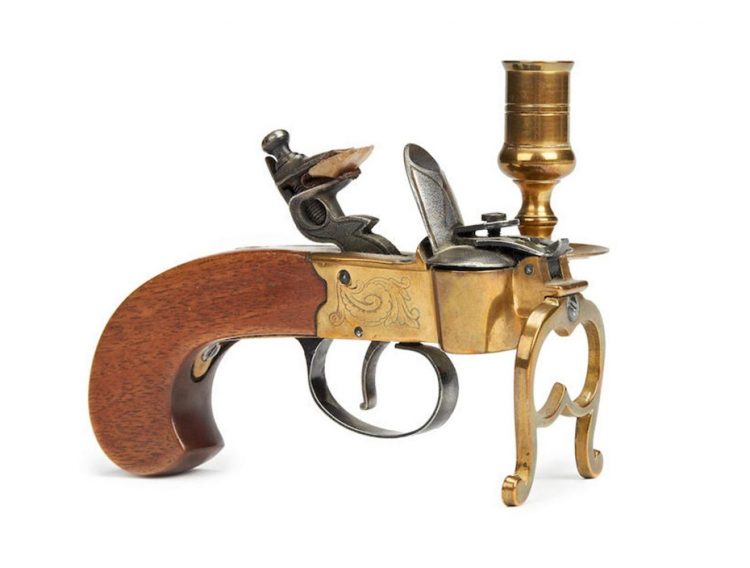 This is nothing more than a pistol of "shock light" of George III himself of the 1780-1800 model. What was it, a souvenir or a real blaster gun, we will not know. The most interesting subject is missing from it. But it is possible that George III shot from this pistol with some x-rays, hooking it with an aiguillette to some iron tent during military exercises. The energy of the past is almost completely obscured.
How did simple people manage to create all this? How those who do not have advanced degrees and sophisticated precision equipment managed it? Well, apparently, somehow they managed. And the answer here will also not be from the field of higher matters. People simply knew the laws of behavior of those elements that gave rise to all energy manifestations and which now seem to not exist. And the laws of behavior of those elements were not at all more complicated than Ohm's laws. Let's look at another "rushlight holder", more precisely, at its circled part.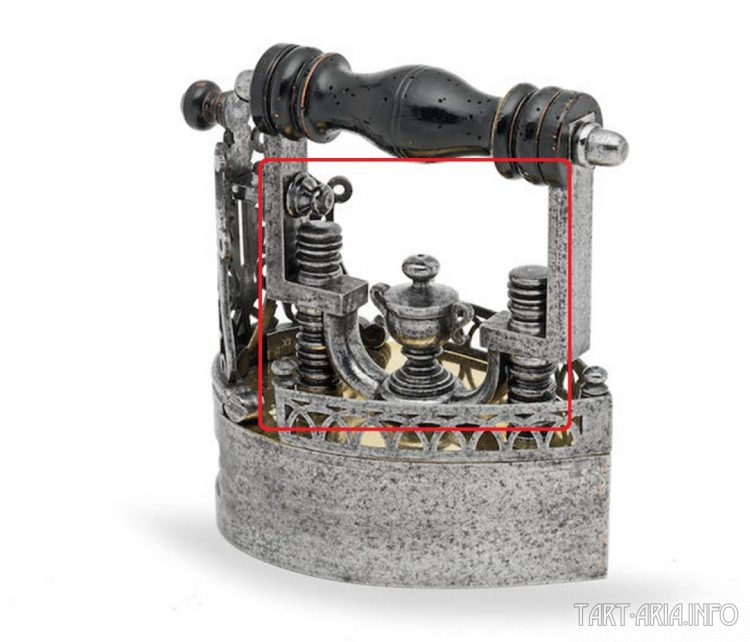 The silhouette of the circled part, I believe, has been seen by many researchers. Its geometry, apparently, is determined by some one of the laws of behavior of those very elements. It is largely repeated on various ancient objects of various sizes, from small to very large.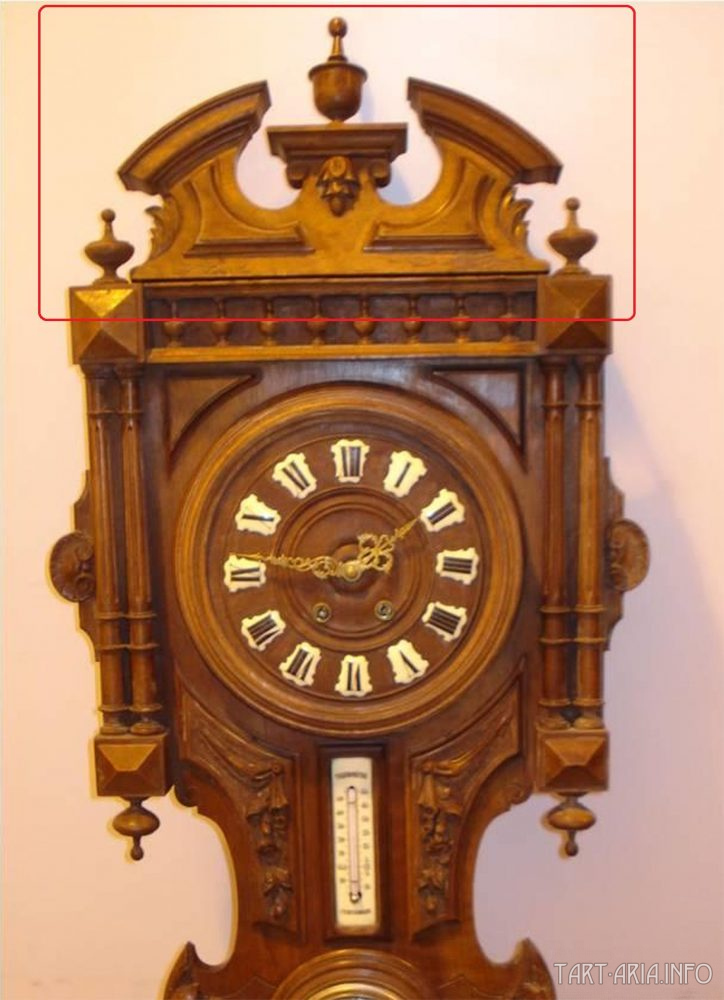 A similar detail can be found not only in antique clocks. It was found in beds, chairs, musical instruments and even doorbells made before the 1st half of the 19th century. But if in the iron it served to concentrate heat, what role did it play in the above mentioned clocks, for example? It also accumulated something, but obviously not warm. Obviously, in this case, some other kind of manifest energy was accumulating. Perhaps (and most likely), in this case the so-called "magnetic" energy, which is now better known as magnetism. It seems that not a single human sensory organ can recognize this matter. But people in those days and now do not differ in their internal structure in anything, and this is proved. No evolutionary leaps in human development over 200 years have occurred. Consequently, the sensory organ that responded to magnetism in a person is present in good health as of now. It is just that a device that accumulated the energy of this type, like the "milky orbs" for light energy, is completely lost. Currently, the network has a lot of scientific and not quite scientific works on the existence of a scalar magnetic field. And this is not a myth at all.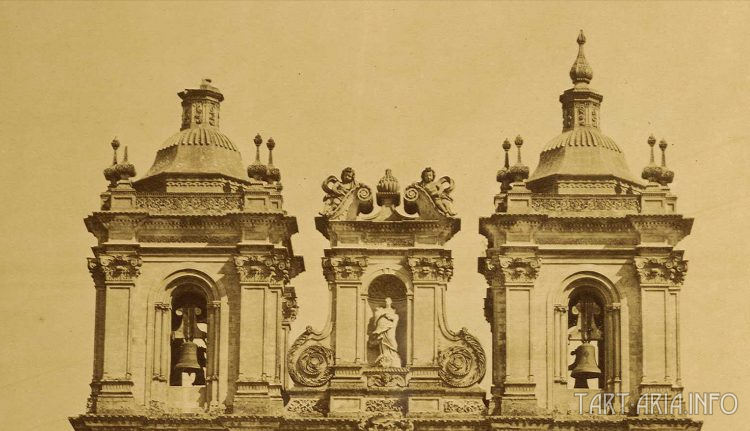 In the center of this architectural composition at some of the cathedrals, we can see the same detail, only in a very enlarged form. I do not know what it is called in architecture (architects, you have the floor). Of course, after a certain "revolution", real vases completely disappeared from this detail. Actually, they disappeared from the vast majority of such architectural details around the world. They were replaced with fake vases, statues, or even just left as an empty space. And if we mentally expose the metal connections from this part of the cathedral and present on it the same vases instead of cherubs and an incomprehensible object in the center, then we again get a rushlight holder (look at the photo of the iron above). The question is - what stood in the niche of this architectural detail earlier, instead of a statue? There are bells on the sides, which is generally clear (this is a separate issue). They attracted people's attention with an acoustic signal. And in this niche stood something more grandiose. If there was a huge spotlight, then in the square in front of this building it was always bright as in the afternoon. And if there was any device for influencing the human brain, then I can't even describe what was happening around. By the way, if someone was in Milan, in the main cathedral of the Duomo, and drew attention to the niches inside, he would not let one lie - the statues were placed in them so clumsy that in certain places they had to cut out parts of the niche to 'fit the statues'. The statues were taken clearly from another place and it was not possible to find others.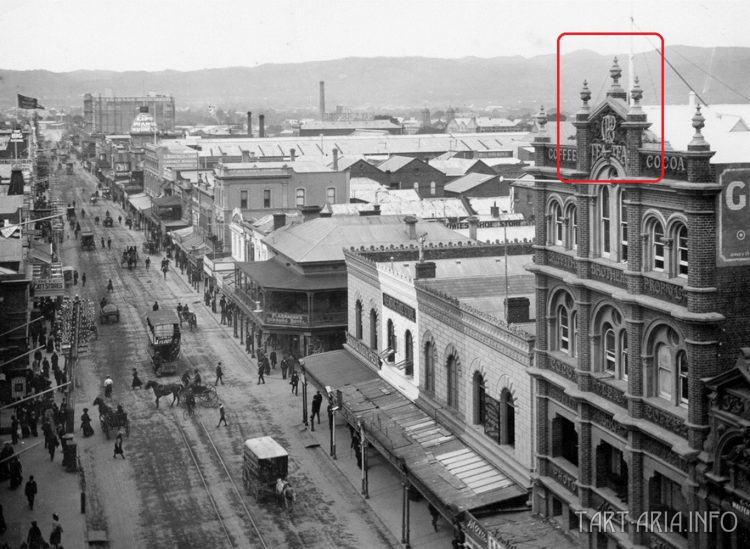 In the original form on such architectural details were always vases, approximately as in this photo. What was in them? And the same as in curling irons, in the dumbbells of samovars and in suspensions on a chandelier (see above). There was a substance that caused indignation of all those incomprehensible elements that Mr. Rumkorf skillfully controlled at one time, connecting his coil to the metal connections of such buildings (this is the same battery that is not present in any picture). And the result of this disturbance was energy manifestations. In this case, according to the photo, thanks to the vases, a sign was lightened up on the facade of the house directly below them. It was also a kind of rushlight holder. It is possible that not only the sign lightened, but all the lighting devices inside the building. And besides them, irons and other objects intended for this were heated. As they say, the scale of the action does not matter if everything goes according to plan. Is it really planned by ordinary people with improvised means, without having a degree?
Here, perhaps, let's start with the fact that people before this very incomprehensible "revolution" did not complicate their lives and did not clutter their brain with unnecessary information. All the above elements with which they achieved such miracles were well known to them. In what form they depicted them and how they are classified, we do not for certain now know. From what we have now, there is only a Periodic table of chemical elements. Clear business, now in it designation of these elements is completely absent. There is much debate about the fact that the modern Periodic Table has recently been somewhat curtailed, and the very chemical elements disappeared from it, the interaction of which we now understand as the very natural powers. And let's do a little creative work and try to recreate these chemical elements. Naturally, recreate conditionally using the symbols of the famous board game.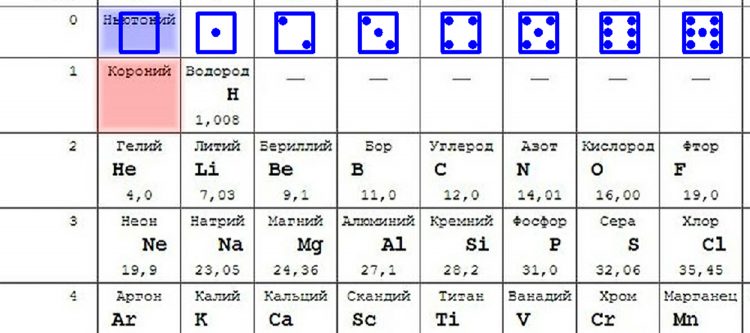 By the way, dominoes of this kind, with 8 values, were used widely in the 19th century. There are a lot of confirmations to this.
In the antique auctions there are many similar sets of dominoes, which with this feature are for some reason called military ("military domino set"). Vague doubts torment myself, that the people in headquarters of those armies not only played dominoes, but also did something else to them along with maps and curvimeters. Well, okay, now let's start thinking.
Suppose all our natural powers are created by chemical elements arranged in the order of their activity according to the periodic table. On the left is the most inactive and lightest element that does not participate in chemical reactions. On the right is the heaviest and most active element. Probably, caloric is most suitable for this role. In the combustion reactions of hydrocarbons, for example, it is replaced by oxygen and released, which indicates its properties to enter into chemical reactions somewhere there, in the bowels of the earth, under certain conditions.
Somewhere in the same row, probably, there is the same "electron". No wonder that in almost official definitions of an acid accumulator it participates in reactions as an almost independent chemical element.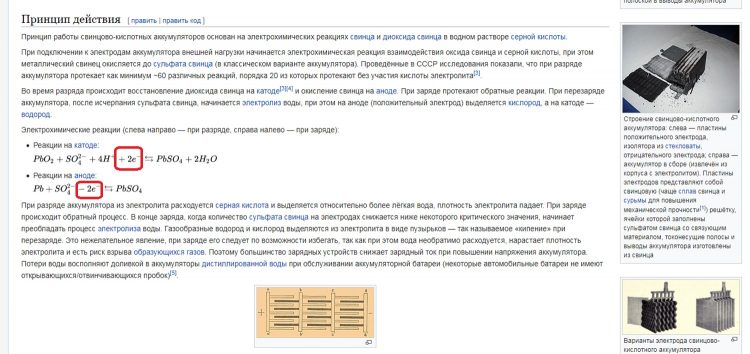 And somewhere, probably next to him, to the left side there is a light-caloric, a magneto-caloric and other *-calorics, of which we can now only guess. Naturally, their properties change with decreasing weight, they lose the ability to enter into reactions, and their energy potential decreases. Well, some part of them a person is able to recognize by sensory organs, and some is not (or we think so for ourselves).
Suppose that all these substances are equally dissolved in the surrounding space, and their total amount in an elementary volume is constant (in fact, like the sum of the points in a set of dominoes). This exists even in the vacuum mentioned above. Each of these substances can interact with each other mechanically, for example, an increase in the concentration of one substance in motion displaces a substance with a higher number, and vice versa. And thus, with the directed movement of these substances in materials with different conditions of patency, the concentration of some substances decreases, while others, on the contrary, replenish from the outside. This is the very radiant (radiation) energy in the radiant tubes (the inscription on the same Gesler tube). Everything has long been known.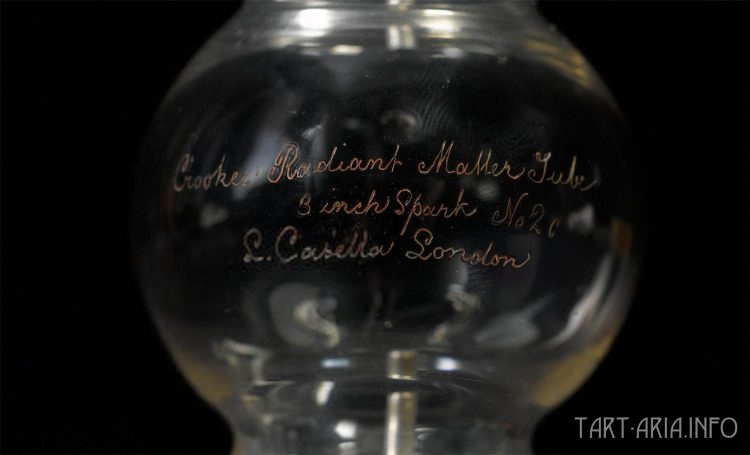 The replenishment of certain substances, carried out cyclically, causes an energy manifestation - heating, lighting, etc., which we generally observe on such a design as the rushlight holder.
Thus, changing the mutual balance of these substances in mediums with different properties, we have replenishment of individual substances in the same volume due to external penetration. For example, due to a change in the concentration of "electrons" in the rheostat due to its higher resistance with respect to the wires, the caloric begins to flow into it from the outside, and then what is well known to everyone happens in the rheostat.
Each of these substances can interact with each other, and this is exactly what happens in the electrical circuit. The final balance of this full interaction is what we observe in the form of measured parameters. And the interaction of each pair of substances is indicated in the same domino bones. Probably any (even single-wire) electrical circuit can be represented as a closed chain of dominoes. And not just imagined, but simulated. What, in fact, the ancient masters did, without having four-story differential equations and professions. It is not for nothing that there are even sets of dominoes, where besides points there is also a direction. Possessing the forgotten secrets of this, so to speak, games, they could make up absolutely any electrical circuit. Naturally, knowing at the same time what material and node corresponds to a certain domino bone. At the same time, it is senseless to compare our level of development. This is the same as, for example, exciting all 8 natural powers with a battery and receive their accumulation by an incandescent lamp, in which only one of the powers - light - is useful. In dominoes, it will look like a closed chain of three knuckles - "empty: 7" - "7: 1" - "1: empty" (battery-lamp-wire). This is a much ado about very little. It's hard to imagine an association with dominoes, but try it. The accumulation of a caloric in an incandescent lamp with the Avramenko plug will look a little more difficult in dominoes. However, we will consider this in terms of dominoes as nonsense, sedition and imagination of the author.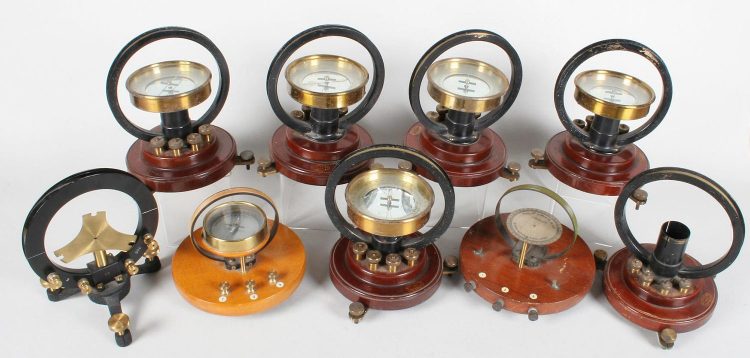 But still, what quantitative parameters of which medium were measured by similar instruments?
P.S. At first I wanted to call this article "The Domino Principle", but I believe that it is too difficult for the reader to perceive, as well as the real ability to play dominoes. In this regard, I ask you not to scold much in the comments for such a free interpretation of such a game. Well, as before, if anyone knows any technical details of the above, write to [email protected]